Adam Sandler Turns Cougars Into Comedy In 'That's My Boy'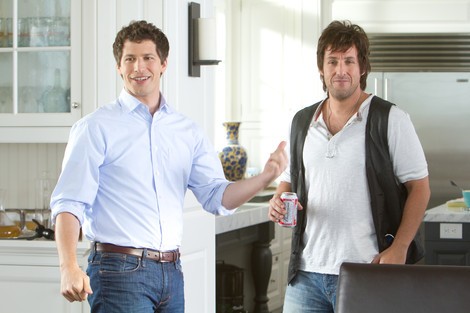 Adam Sandler has a fetish for older women, so he finally made a movie about it. That's My Boy stars Sandler as a man who fathered a son with his teacher when he was 13. Now he has to meet his grown-up son (Andy Samberg.) Sandler joked about the appeal of older women from his own childhood.
"I'm comfortable with it," he said. "I've always liked older ladies, ever since my mother would have B'nai Brith at our house. I don't know, they seem to be nice. They've seen it all."
Like the R-rated comedy opening this weekend, Sandler took his older women comments into a sexual direction. "They've seen every penis size," he continued. "They've seen some giants and they've seen some that don't cause too much pain and they're nice about it. They find a way to compliment it, no matter what. So, I've always liked older ladies for that reason. Young ones are like, 'Whoa. I was expecting more d*** there.' The old ones are like, 'Yeah, no. I have a baby.'"
In the film Sandler's character embarrasses his grown-up son; and in real life the star has already found himself an embarrassment to his daughter Sadie.
"I wear shorts a lot and my kids do ask me to put pants on when I go to school [to pick them up]," he says. "'Can you just one time wear pants,' and every time I get out of the car I look down and I go, 'I got those f***ing shorts on again. She's going to kill me.' I'm getting older and that happens. You don't care as much.
"I'm definitely at that age, by the way. I don't care too much anymore. I have to think about that because my father used to wear the same pants for a week. I remember that, and I'm like, 'Holy sh**. My friends have been over three times this week and they see him in the brown pants. Can I please convince this guy to get on some blue pants for a day?' But, yeah, I'm sure I'll be that guy and embarrass my kids."
That's My Boy opens Friday in theaters.