Adam Sandler & Katie Holmes Talk Hidden Talents, Paparazzi & More On 'Rachael Ray'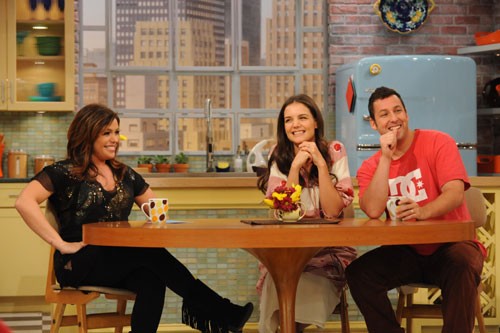 Adam Sandler and Katie Holmes dropped by the "Rachael Ray" show to promote their new film "Jack And Jill."
In the film, Jack Sadelstein (Sandler) is on top of his game, and has every reason to be thankful: he has a beautiful wife (Holmes), great kids, a gorgeous house in L.A., and a successful job as an advertising executive. Even still, Jack always dreads the coming of Thanksgiving because for him, the holiday only means one thing: a visit from his needy, annoying, passive-aggressive, neurotic, identical twin sister, Jill (also played by Sandler.)
The stars sat down with Rachael and talked about the paparazzi, holiday movies, wiggling their noses and more. The full interview airs Friday, Nov. 11, on CBS.
When Adam Sandler's kid tells him how to get rid of the paparazzi:

"I'll tell you what, this is the truth. The paparazzi annoy me, I don't like it and I don't like my kids being in it. I had my kid Sadie the other day, so we leave this restaurant and these buffoons are hanging out taking pictures I go you got the picture, go home, let me hang out with the kids. So they actually leave and Sadie goes 'Daddy, you know how you can get them to stop taking your picture? Stop making so many movies'. I go 'yeah you're right!'"

Katie and Adam's favorite holiday movies:

"Well I like Christmas vacation." – Katie Holmes

"Well now I feel bad about what mine is. Every year we sit and watch the Shining. We have to. I tell the kids, you know daddy can snap like that too. It's about lessons." – Adam Sandler

Katie dishes that Suri loves to dress up:

"We are a glitter household and we are always into to dressing up. I used to change like fives times a day when I was little and sometimes I still do."

Katie and Adam have the same hidden talent- wiggling their nostrils:

"If you have a tight shot I can wiggle just my nostrils. Thats all I got Sorry. [Katie wiggles her nose] Oh you can do it too! Don't steal my thunder." – Adam Sandler

What Katie would take if stranded on a deserted island:

"Three items on a deserted island. Underpants, blackberry, wanna stay in touch. And a mixer."– Katie Holmes