Adam Sandler Is Getting Flabby For The Film 'Fat Man' (Photos)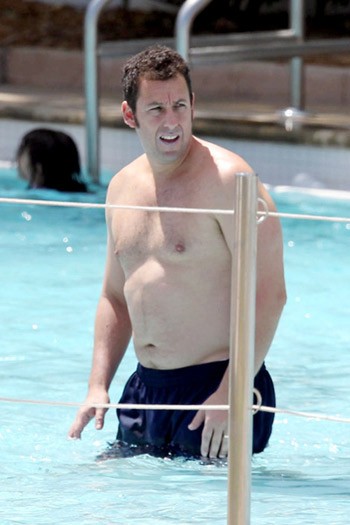 We spotted Adam Sandler swimming with his children Sadie and Sunny in Miami yesterday. The actor looked a little overweight while he was enjoying the pool with his family.
The actor is reportedly eyeing a role in the upcoming comedy "Fat Man" so maybe that's why he's packing on the pounds?
Hopefully the film will put him back on top of the box office. In February he set a record and was dishonored with 11 "Razzie" nominations, which are given to the worst movies of the year. His film "Jack and Jill" was a bust.
He stars in several upcoming films, including "That's My Boy," "Hotel Transylvania," "Pixels," and "Candy Land."
See more photos of flabby Sandler...