Adam Richman Presides Over A Culinary Battle Pitting Home Cooks Against Pro Chefs On NBC's 'Food Fighters'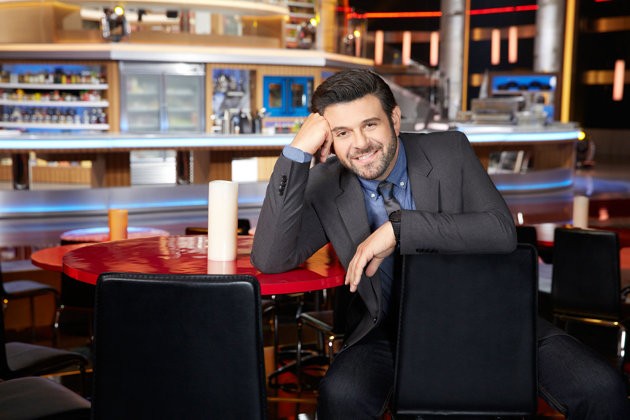 It is the ultimate culinary battle, pitting home cook against professional chef to win $10,000. But what makes NBC's "Food Fighters" different than other cooking competition shows is it's host. A classically trained chef? A food historian? Rather, the man presiding over this cooking race is none other than Adam Richman; food and television personality best known for eating his way through American than judging its food and chefs.
Richman's job as host of this unique series is to be a sounding board for the contestants and professionals, a live-action voice over if you will, narrating not only what is happening within the confines of the kitchen but also, sharing the back-story of these fierce competitors in their quest to win big cash prizes. While other cooking shows allow competitors to battle round after round and only have the chance to win one time, "Food Fighters" allows the home cook chances to win prizes at each round. There are five rounds and if they don't win, they still get to face off again against another culinary expert, climbing a money ladder with increasing cash prizes for every professional chef they knock out.
Explains Richman, "The home cooks bring five of their best recipes and go against five mystery chefs. The chefs ascend usually in level of ability, accomplishment and training. The final chefs in each of these food fights are titans, true titans of culinary skill. The premise is that they don't know which dish they're making until just before the food fight. They come up with a strategy based upon their expertise. So you see the battle change, so to speak, depending on whom they're fighting."
According to Richman, the home cooks just may have a particular edge in the competition. "I think there's different skills that each bring to the table. A professional chef is used to having a dinner rush and having to turn out a bunch of plates and to turn them out pretty and efficiently and cooked well. At the same token, you have the mom's who are used to the three kids banging on the table and working a full day and in many cases, having to go home and cook through some difficult circumstances."
He continues, "I think it really depends upon, in the case of 'Food Fighters' the recipe itself.  On one hand, the mom, the home cook for example, has been making their recipe for years. They know it like the back of their hand. But perhaps, they are not used to working under a crushing time limit. A chef may be used to churning out multiple dishes in that time limit, but doesn't know this recipe or hasn't worked in this particular kitchen. They also don't have the luxuries they are used to in a professional kitchen, such as a sous chef or a particular piece of equipment they rely on."
"It's that sort of thing that brings pluses and minuses for both and brings to the table numerous reasons why each chef could win. For me, that is what makes 'Food Fighters' so compelling. In many cases, it's a game of inches, which is pretty cool."
The series premiere of "Food Fighters" begins on Tuesday, July 22 at 8/7c on NBC.