Adam McKay Talks Will Ferrell, Funnyordie.com, And Upcoming Projects

There's quite a few websites out there that provide original comedy videos, but what separates
Funnyordie.com
is that its got
Will Ferrell
and
Adam McKay
at its helm. " We liked the idea of just doing comedy for comedy's sake and having a place for our friends to do it too. We went into it with a clubhouse mentality and that was basically it," says McKay, a former
SNL
head-writer who's co-written and directed Ferrell in the films
Anchorman
and
Talladega Nights: The Ballad of Ricky Bobby
, adding "We also talked about the fact that it would be a great opportunity to see new directors, actors, and writers." In part one of this two-part Starpulse Q and A, Adam McKay shares his views on web based comedy and offers a glimpse into some of his future projects.
What inspired you to start Funnyordie.com?
We, Will Ferrell and I, were approached by Sequoia, which is a big financing firm up in Palo Alto; they do a lot of internet stuff and they came to us and said they had an idea for a comedy site, and Will and I were sorta like," Yeah, we don't know. It's the Internet, we've seen it come and go." But the more we started talking about it the more we started thinking, "Well, wait a minute, this could be really fun." We loved working on SNL and we still have all of these ideas that fit the format. We liked the idea of just doing comedy for comedy's sake and having a place for our friends to do it too. We went into it with a clubhouse mentality and that was basically it. We also talked about the fact that we had just started our production company, Gary Sanchez Productions, and that it would be a great opportunity to see new directors, actors, and writers.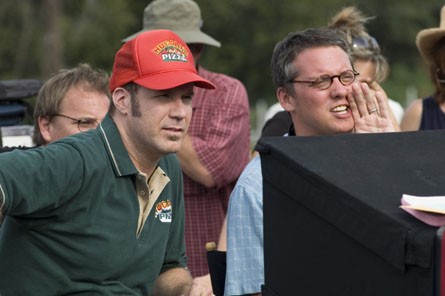 Will Ferrell and Adam McKay- Talladega Nights - © Sony Pictures. All rights reserved
What is it in your opinion that makes a successful short?
You know, the trick is a strong, clear, and concise funny idea. A lot of shorts spend too much time setting up the idea; sometimes they meander. Right now we're at that stage in the Internet where content seems to work best at two minutes. I always compare it to the early days of film, when the first short films were like elephants being electrocuted or a guy riding a bike. It was about the attention span. I think we're a little past that stage, but we're still in those early drop a dime into the machine and watch a short film stage. So, you want to keep them brief, but also have a strong clear opinion.
Another very basic thing is just good sound. Sound ruins these pieces. I don't really care if the production value is that great, but you gotta be able to hear it. I'd say it's the same elements that make good comedy: if people are smart, if people have a fresh take on something, then it's great. As far as what makes a viral video, then it's gotta be something that you've either never seen before, a fresh piece of comedy, or something that relates to something topical.
Do you watch a lot of the videos on the site?
I'm on there every day. I certainly watch all the ones that are hot right now and featured and then I'll check out the different channels, the different pages and see what's on there. I also respond to messages I get. I love it. It's another way to just stay active in the scene as opposed to becoming more and more isolated.
It seems like there are two ways to try and stay active with comedy- the theaters, the like the Upright Citizens Brigade, and then the Internet, which has just gotten so huge. Ten, fifteen years ago when we started off you had to go on showcases and get theaters and perform your sketches. Now you put them on the Internet, people see them, and you can get signed and discovered.
What are you favorite types of videos?
My favorite ones are just, a kinda semi-mentally unbalanced person just talking directly to the camera about weird shit. (laughs) There must be like a thousand of those on there.
It seems like you're continuing your history of getting things started, like when you got Paul F. Tompkins and Jay Johnston together.
Haha! (laughs) Oh my god. That's obscure. Someone read the Mr. Show book. (laughs)
I sure did.
(Laughs) I will say, that's my favorite pairing that I've ever done. I had to insist that Jay call Paul because I knew they would hit it off. You know how it is when people tell you to call friends of theirs. I was like, "Jay, do it!" and then the first night they met they stayed up for 12 hours joking around. I always loved that one. It was like the perfect pairing.
What other pairings have you orchestrated?
God, I don't know. That's an interesting way to put it. I hired
Tina Fey
for SNL, which was certainly a good match. She took off right away there. I really like the Will Ferrell-
John C. Reilly
one. It's pretty amazing. That was Will and myself, and obviously John participating, but boy, man, those guys are funny together. I can watch those guys all the time. I don't know. You're always meeting people and saying, you should try working with this guy. Chris Henchy and Dennis McNicholas just wrote the Land of the Lost script and I actually suggested those two work together. They had not written together and it turned out to be a really good pairing.
And did you and Will decide to produce East Bound and Down with Danny McBride, Ben Best, and Jody Hill after seeing Foot Fist Way?
Yeah, we found that. Those three guys are the creative force behind that movie. We started hanging out with them once we acquired it for Gary Sanchez and they're just the coolest. They're great. They told us about that show idea and we worked with them on that. Man, is that show funny. It's gonna be crazy good. I can't wait until the strike's over and we can get back to it.
So you'll be distributing "Foot Fist Way"?
We will. We're gonna release it in April.
Excellent. I wanted to see that movie ever since I read about it.
It's very funny.
What can people expect from "East Bound and Down"?
East Bound and Down is first off, pretty rough, like, (laughs) pretty harsh. It's about a John Rocker type pitcher who bounces out of the majors because of racist comments and steroids. He goes back to his hometown where he's kinda burned every bridge and he's not a…he's a hard guy to like. It's just really aggressive, hard humor. Like if you slanted "
Goodfellas
" slightly more toward comedy, it might kinda get this feeling to it. But man is it funny. I'll tell you, people can definitely expect to be shocked. And I think for real comedy fans, they're hopefully gonna think it's one of the funniest shows they've seen.
So, outside of Stepbrothers and the Neil Brennan movie that you are producing, what else is next for Adam McKay?
We've got the TV show for HBO "East Bound and Down", which we're really really excited about, and we have another movie in development with the guy Andrew Gurlund who did "
Mail Order Wife
" that's pretty interesting. We have a script called "Step Father" that's written for Paramount Vantage that also looks pretty funny. So we have all that going on, and I'm kinda thinking about my next movie. I might do this science fiction script that I wrote with a friend of mine called "Channel Three Billion", which I think could be pretty cool. I'm finishing up
Stepbrothers
, and looking into doing that, looking into getting this next movie going.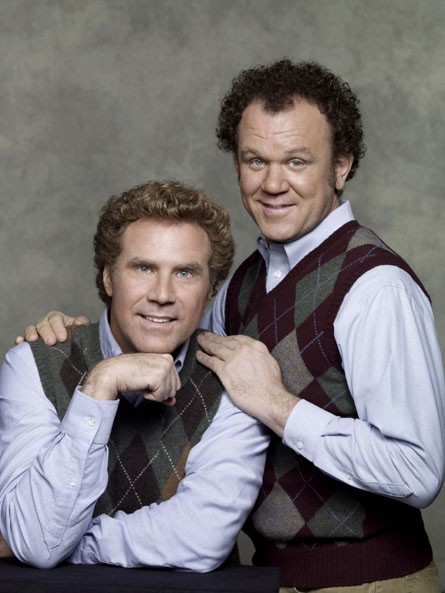 Step Brothers - © Columbia Tristar Marketing Group, Inc. All rights reserved. Release Date: July 25, 2008 (USA)
What is Channel Three Billion about?
Channel Three Billion is a future world where basically, slowly, no one leaves their apartment. And everything is viewed through, it's television, but its basically become virtual reality, and everything done through that and no one leaves their apartment. The other problem is there's a proliferation of entertainment. There's literally three/four billion channels, and they keep growing and growing, and if it gets past a certain point then it will take up all the resources, so you won't have any food generated or any power, so they have TV cancellers, who are just there to constantly cancel TV shows. And our main character cancels religious fishing shows. And he meets a woman, and there's a crisis, there's this cult that wants to reach this channel infinity level where there's just permanent fluid entertainment, basically like a crystal meth high off of television, and he's sorting fighting those, and has this woman he's in love with, but no one leaves their apartment and, blah blah blah, lots of stuff like that. It's kinda got a Brazil feel to it.
You mentioned the Ken Jeong film. Is that the Mike O'Connell film?
Yeah, oh my god, that's the best. You're talking about
What's it Gonna Be
?
At the moment it's titled "The Million Dollar Strong Project"
Oh, oh, they're working on the movie. That's right. We're actually not working on that. I mean we got to know him. Obviously I saw him in
Knocked Up
and then we loved the What's it Gonna Be video they have. That's one of my favorite videos on Funnyordie. And then we cast him in the car salesman one, and he's just been incredible. And Mike O'Connell too, he's another guy, really talented guy we'd love to work with. So yeah, we haven't set up something with him yet, cuz of the writers strike, but once that's done, we definitely wanna work with those guys.
Then what is the project that Ken is working on?
Ken is on our car salesman movie we're doing. It's called "
The Goods
", and it's an ensemble comedy. It's
Jeremy Piven
,
David Koechner
,
Ving Rhames
, Catherine Hahn,
Ed Helms
, Dr. Ken, tons of people are in it. And
Josh Brolin's
really funny in it. And
Charles Napier
. It's a really good cast, and he's one of the salesmen, Dr. Ken. And just every scene with shoot with him he improvises like crazy. He's so funny. That's Neil Brennan, who wrote for Chappell's Show and Half-Baked, directing that movie.
And what about the Funny or Die tour?
That's probably the most immediate thing. In February we're doing seven dates at big colleges all around the country and it's Demetri Martin,
Zach Galifianakis
, Nick Swardson, and Will Ferrell hosting it.
I think what's cool about what you and Judd Apatow are doing is that you're finding people who you think are funny and giving them a venue to be funny, like releasing Foot Fist Way.
Yeah, yeah, I mean, that's exactly it. What's fun about having this production company is we get to eliminate four or five of the hoops you normally have to jump through and just say, no, you're funny, let's do it. The idea that Judd had
Seth Rogen
as the lead in his movie and it worked. Seth's great, and now he's a star, which is so fantastic. That's a guy that's just been funny forever, and maybe 25 years ago it would have been a harder road for him to get through and maybe even ten years ago. It just shows that if you're good you get to do it.
Interview by
Ben Kharakh
Starpulse.com contributing writer
Part 2 of the interview with Adam discusses the writer's strike and what makes comedy successful
.