Adam McKay: Anchorman 2 To Have Musical Numbers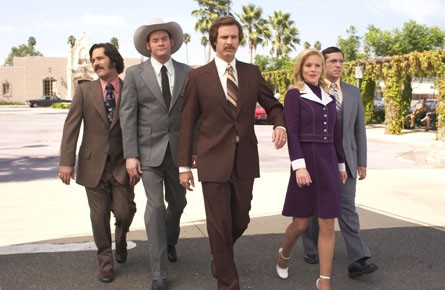 Adam McKay has leaked some juicy info on the highly-anticipated sequel to Anchorman: The Legend of Ron Burgundy. For one, there's going to be musical numbers.
It seemed for a while that Anchorman 2 would never happen after Paramount shot down the project and director Adam McKay went on to do other projects with star Will Ferrell. Out of nowhere, however, the film was greenlit and a teaser was produced.
McKay told Indiewire, "We were going to do 'Anchorman 2' as a Broadway musical first, for like six months and then go shoot the movie."
It wouldn't be the first time a song suddenly appeared within a McKay film. "The music sequences we have done -- we did 'Afternoon Delight' [in Anchorman], Adam Scott and his family singing 'Sweet Child O' Mine' [in Step Brothers], we did a whole song for Talladega Nights that got cut out, a big, big musical number -- we always do it live on the set." McKay explains that a second recording can be done in post production in case someone forgets their lyrics.
McKay revealed that one big plot point will be the 24 hour news cycle. "Even though it's going to be a big silly movie, it's all about the rise of the new media and 24 hour news cycle, and there's a lot of interesting points to make about that while being silly."
The film is currently scheduled to be released on December 31st, 2013.