Adam Levine Slams 'American Idol' For 'Masking' Gay Contestants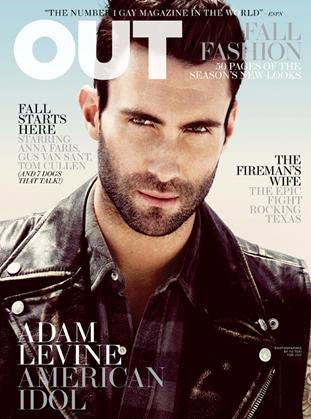 In the September issue of OUT, Maroon 5 singer Adam Levine talks frankly about the way his family responded to his younger brother when he came out.
"I can single-handedly dispel any ideas that sexuality is acquired. Trust me, you're born with it. My brother is gay, and we knew when he was two," he explained.  "We all really wanted to provide some cushion for him and constantly let him know that it's OK."

The musician, a coach on NBC's wildly-successful "The Voice," was scathing of families who try to change a gay child. "A lot of people don't want their kid to be gay and will fight it all costs, but I've got news for you—it's a losing f***ing battle," he said. "You've got to embrace it from the beginning. That's the only way to deal with it as a family. Otherwise you're just screwing yourself over, and you're going to make your kid miserable."

Levine also contrasted the way his NBC show, "The Voice," encourages gay contestants to be honest and out compared to rival show, "American Idol," on Fox, which famously discouraged Adam Lambert from discussing his sexuality until after the finale.
"What's always pissed me off about Idol is wanting to mask that, for that to go unspoken," he said, adding, "C'mon. You can't be publically gay? At this point? On a singing competition? Give me a break. You can't hide basic components of these people's lives. The fact that The Voice didn't have any qualms about being completely about it is a great thing."

Out is currently available to consumers via the print publication and online at Out.com. Follow Out on Facebook at www.Facebook.com/OutMagazine and on Twitter at @outmagazine.