Adam Levine Responds To Being On Lindsay Lohan's Sex List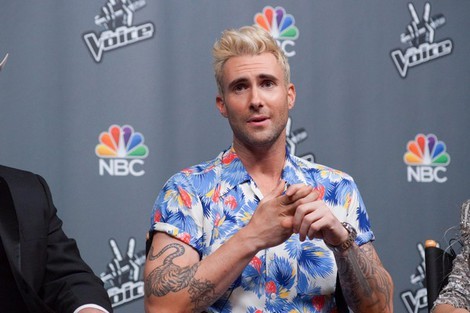 Maroon 5 singer and The Voice judge Adam Levine has finally responded to being on Lindsay Lohan's sex list. The list, leaked in March, allegedly listed Lohan's sexual conquests and includes names such as James Franco, Ashton Kutcher, Heath Ledger, Justin Timberlake, Zac Efron, Colin Farrell and Wilmer Valderrama. Lohan admitted to making the list, but did not divulge how true it was.
Levine was asked about being on the list on Howard Stern's show, which is rapidly becoming the place to go to talk about Lindsay Lohan's sex list. Stern told Levine, "By the way, you were on Lindsay Lohan's sex list - that you had sex with her - I didn't know this."
Levine replied, "That's not true. I did not have sexual intercourse with Lindsay Lohan." When Stern noted Franco denied the report as well, the singer added, "That's because I think we're being truthful about that very specific thing."
Stern said if no one on the list had sex with her, "Did anybody have sex with Lindsay Lohan?" Adam replied, "A lot of people probably did, I don't know."
James Franco called Lohan "Delusional" when he was on the show but conceded, "Alright, we maybe kissed... It was lame. When we made out, it was so long ago. I was like a nice guy." He then wrote a bizarre short story starring Lohan and himself, chronicling the period when Lohan constantly tried to get into his room to be with him.
Adult Language
Levine also refuted rumors he called up all of his girlfriends to apologize for his behavior. "I'd like to clear the record right now, I totally did not do that. That was a very surprising thing to have heard come out."
He added later, "I kinda wish I had done that. It would've been really nice." Levine later said the idea sounded arrogant.
So if the men on Lohan's list didn't have sex with her, is it more of a wish list? Or was Lohan trying to boast about her sexual exploits and added a few extra big names? Or are the deniers lying?