Adam Levine Is Still My Hero
Adam Levine is my hero. Last night, he changed my life again.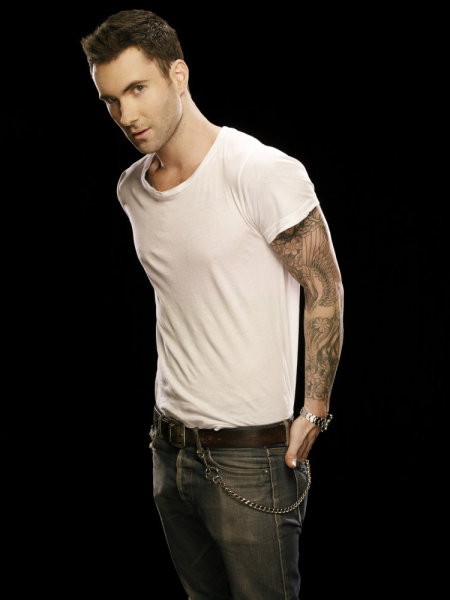 I'm not exaggerating at all when I say that. For years I've heard how the media is a complete waste of time and doesn't contribute anything to our lives; well, I'm a walking example to the contrary. Without Adam Levine, I wouldn't be the woman I am today. I don't even know if I'd be here to write this column. And last night, our paths crossed for the first (but hopefully not last) time.
For those of you who don't know me personally, the last year of my life has been a living hell. I was born with cerebral palsy, and doctors broke the news to me thirteen months ago that it was much worse than I had ever expected. My bones were severely misaligned and if I ever wanted to walk again, they had to correct that. They broke everything from my hips downward, introducing me to several pieces of metal along the way. The day I was half-shattered physically, life as I knew it ceased to exist as well.
Since then, it's been over 400 days of physical agony, surgeries, nightmares about said surgeries, insomnia, reliance on pain medication just to get out of bed, doctor's visits, physical therapy and a whole list of side effects I didn't expect. The biggest has been the psychological toll. All of that beat me down mentally as much as it did physically. There were days I wondered what I had done and if I even wanted to live anymore. I might have been physically present, but I was broken inside.
Then, through The Voice, I was introduced to Adam Levine.
His personality won me over from the very first episode. He reminds me a lot of my childhood best friend, in that he can always put a smile on my face, or make me laugh. Things just feel lighter when he's around. I lost that feeling from my life when said best friend was killed almost a decade ago, and I thought I'd never find someone like that again. Adam brought that joy and laughter back into my world, when I needed it more than ever before. He smiles and it makes me smile. That positive energy is something I've missed and it's something I need.
Naturally, once I liked him as a person, I became curious about his music, and what I heard amazed me. Maroon 5 has quickly become one of my favorite bands of all time; there isn't a single song of theirs I don't like. A large part of that is Adam's fantastic vocals. He's one of the best vocalists I've ever heard; I'd rank him a close second to Bobby Caldwell, and I never thought anyone would ever touch Caldwell. Something about his voice is incredibly calming to me, which means a lot when it's 2 AM and I'm having another nightmare about my doctor shoving a power drill into my knee. There have been a few times that the sound of his voice has kept me together. I tried to get them to play Maroon 5 in my operating room, but I guess they don't do that in hospitals anymore.
Adam's passion and the fun he has performing rubbed off on me. I discovered a love of music, rather than just a passing interest in it. I can finally hear its nuances and subleties. I understand now why my friends get so excited about their concert tickets. Recently I did something I never thought I would: I picked up an instrument. I've got two guitars now (222 by First Act guitars, of course) and having them in my hands for the first time was a thrill. Now I have a skill to learn and a goal to focus on, rather than being consumed by all of my health issues.
Things still aren't easy in my life. Far from it. But thanks to Adam, his inspiration and influence, I feel hope. And I've got something to hold onto.
I've wanted to meet him ever since, if only just to say thank you. Last night, after The Voice, I finally did. I'm still not exactly sure what happened, but while I was trying to summon the physical strength just to get out the door, his assistant pulled my assistant aside, and the next moment I'm being told that Adam is going to come and talk to me. Needless to say, shock set in immediately, followed by excitement and gratitude.
As I type this, I still can't believe how lucky I am. This wasn't just a passing moment; he made a point to come down to the end of the press line and not just meet me, but actually converse with me. I can't describe the feeling that went through me when I was looking one of my heroes in the eye. We talked for a few minutes, and he even asked how I was doing. I mattered to him, and that made me feel better about myself. I was able to tell him how much he'd done for me. About the time we hugged, I lost my composure and started crying. I'd met the man who'd essentially saved me from the darkest period in my whole life, and he was incredibly sweet and down to earth.
"You don't owe me anything," he told me. We'll agree to disagree on that. But those couple of minutes we shared together were perfect. They're what I'll hold onto through whatever happens next, not to mention for the rest of my life.
That's why I'm writing this column - because what Adam did for me last night, and what he brought into my life before that, deserves recognition. Because I want people to know he's one of the good guys in this crazy mixed-up entertainment world. Because if I don't see him again, I want to find some way to express my gratitude for what just happened. Because he's changed my life for the better. After last night, after seeing he really is all I hoped he'd be and more, I have an even deeper respect for him.
Adam Levine is still my hero. He always will be. I'm just glad that he finally knows it. And if I'm lucky, maybe this won't be the last time I get to thank him for it.