Adam Levine Honored With BMI President's Award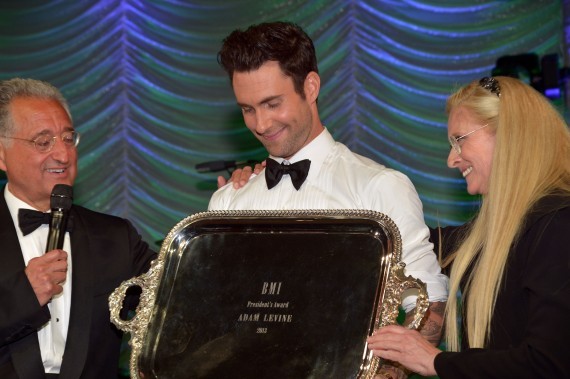 Tuesday was a big night for Adam Levine, as the Maroon 5 front man not only appeared on The Voice but then was honored with the BMI President's Award at the 2013 BMI Pop Awards.
The President's Award "is presented on unique occasions when an individual songwriter has distinctly and profoundly influenced the entertainment industry," according to BMI. Past recipients include Willie Nelson, Gloria Estefan, and Juanes.
"I usually have some smart-ass remark for everything, but tonight I'm speechless. I was looking forward to this night…No one appreciates it [this recognition] more than I do," Adam told the crowd at the Beverly Wilshire Hotel in Beverly Hills.
Also recognized on Tuesday was one of Levine's collaborators, Benny Blanco, who helped write Maroon 5's hits "Moves Like Jagger" and "Payphone," as well as the Gym Class Heroes track "Stereo Hearts," on which Levine appeared.
In addition to receiving the prestigious award, the Grammy winner also had a good evening on The Voice. All three of his artists - Amber Carrington, Judith Hill and Sarah Simmons - moved forward into the competition's Top 10, and Levine joined them on stage for a performance of "Love Song" by The Cure, which you can watch at the end of this article.
BMI (Broadcast Music, Inc.) is a global leader in music rights management, currently representing more than 600,000 artists and over 7.5 million songs. The company's non-profit organization, the BMI Foundation, encourages the study, creation and performance of music.
You can view the full list of 2013 BMI Pop Awards winners and a photo gallery from the evening by visiting BMI's website.
(c)2013 Brittany Frederick/Big Red Chairs. Excerpts appear at Starpulse with permission. All rights reserved. No reproduction permitted. Visit my official website and follow me on Twitter at @bigredchairs.