Adam Levine Does Not Hate America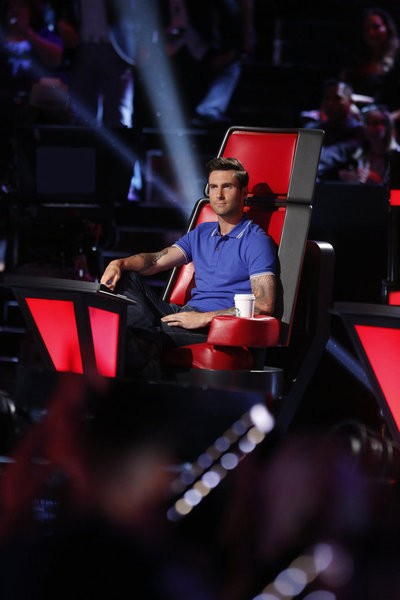 Adam Levine does not hate America.
The Maroon 5 front man made a comment during last night's The Voice eliminations - "I hate this country" - that was picked up by the national broadcast. Ever since, the Internet has been flooded by various articles speculating on what he meant, his level of patriotism, and his job fitness. It's definitely a lesson in always remembering when you're wearing a live microphone.
But were those four words really worth all the controversy they're generating today? Let's take a look at the points of view and what we can learn from this situation. (Full disclosure: as a Voice regular, this reporter has a friendly relationship with Levine.)
1. Did he actually say "I hate this country?"
There's no denying what words left Levine's mouth. They're on tape. We know he said "I hate this country."
2. Is it possible he may have been saying that he hates country music?
Some outlets have suggested that the "country" Levine was referring to was not America, but country music. That we don't know. His comment was heard and not seen, so it's possible - maybe he said it while looking at Blake Shelton, or maybe he just trailed off before he got to "music." Since we didn't get a visual, we don't have those contextual clues.
3. If he was saying the latter, does that mean he doesn't support Amber Carrington, who is a country artist?
This is a reach. Celebuzz's Robert Kessler suggested in an article today that "the real loser here is Carrington, who now knows that she was not the one her supposed coach was hoping would advance to the show's next round."
The idea that Adam would want to see Judith Hill or Sarah Simmons to move on over Amber just because of genre doesn't make sense if you've watched the season. Levine has stuck with Amber over other artists who were perceived to be stronger - he let Sasha Allen, another member of the Top 6, go to keep Amber on his team. And even if he really did hate country music, he certainly loaded up his team with country singers this season.
4. What about the context of his comment? Should he have known better either way?
Watching the video, it's clear that Levine's remark was made in a moment of frustration. More than likely, he was referring to his "hate" of America's vote. It's understandable - the Maroon 5 singer has established himself as a passionate guy (as noted by Katrina Parker, who was on his team in Season 2), and he was on the verge of losing almost his entire team. He ended up losing two artists who turned four chairs in their blind auditions, including Judith, who was a popular choice to win the competition. If he wasn't upset, then that would be cause for concern.
It's not the first time a talent-show judge has expressed surprise or dissatisfaction with the choices made by the viewing public, and it probably won't be the last. Up until Candice Glover won American Idol this season, there was an entire running bit about that show's "White Guys With Guitars" trend, believed to be caused by young women voting for the cute male singers.
Having said that, Levine could have phrased it better, and he's got to be careful when he speaks. He's a magnet for discussions of this nature, such as when he took to Twitter to comment on MTV. He should know that people will notice what he says and not hesitate to make it a topic of conversation, and he probably does know that. He's not the first person to blurt something out in the heat of the moment, either.
5. Is the public reaction to Levine's comments appropriate?
It's fairly obvious this whole situation shouldn't be one. Some people are calling for Levine to either step down from the coaching panel or be deported. Even if you were offended by what he said last night, throwing someone out of a country for one comment is a bit harsh.
Everyone is entitled to their own opinion. If someone was in fact bothered by what Levine said last night, especially in light of what else is going on in the country right now, that's understandable and it's your right to feel that way. However, it's also important to note the context in which the comment was made, and not to use those words to then infer other things. Adam Levine said something he regrets in an emotional moment - and we have all probably been there.
If we want to be passionate about our country, perhaps we should turn our focus to another Voice coach. Blake Shelton's Oklahoma benefit concert airs tonight at 9 PM ET/PT across NBC and the NBCUniversal family of networks.
ETA: Levine has issued a public statement through Us Weekly clarifying his comment. Here's the direct quote below.
Being a part of The Voice, I am passionately invested in my team and want to see my artists succeed. Last night's elimination of Judith and Sarah was confusing and downright emotional for me and my comments were made based on my personal dissatisfaction with the results.

I am very connected to my artists and know they have long careers ahead, regardless of their outcome on the show.
If you want to know what else happened during last night's Voice results show, you can read our results breakdown.
(c)2013 Brittany Frederick/Big Red Chairs. Excerpts appear at Starpulse with permission. All rights reserved. No reproduction permitted. Visit my official website and follow me on Twitter at @bigredchairs.