Adam Lambert Insists There Was No Violence Involved During Finland Arrest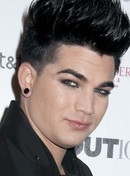 Singer Adam Lambert has cleared up reports of his arrest in Finland on Thursday, insisting there were "no punches thrown" during the argument which led to his detention.

The former American Idol star and his Finnish-born partner Sauli Koskinen were taken into custody by cops in Helsinki after becoming embroiled in a feud while partying at gay club Don't Tell Mama.

They were both questioned by police and released hours later, and Lambert later laughed off the incident in a quirky Twitter.com post to fans, in which he blamed alcohol and a lack of sleep for the fall out.

He wrote, "Jetlag+Vodka=blackout. Us÷blackout=irrational confusion. jail+guilt+press=lesson learned. Sauli+Adam+hangover burgers= laughing bout it."

Lambert took to Twitter again on Friday to express his embarrassment at his behavior and to clear up reports suggesting violence was involved in their bust-up.

In an update to fans, he writes, "Violence is not to be taken lightly. Embarrassed by drunkenness. No punches thrown, no injuries and no charges. Media always exaggerates."