Adam Lambert Appeals For Charity Birthday Donations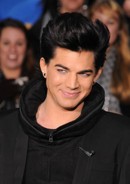 Glam rocker Adam Lambert is showing off his giving side for his 30th birthday by asking fans to donate to charity instead of sending him presents.

The former American Idol contestant reached the milestone age on Sunday, and, like last year, he wants to use the occasion to help the needy.

Lambert has urged his devotees to pledge money to Charity: Water, an organization which brings safe drinking water to developing countries, rather than shower him with gifts.

In a message posted on the charity's website, he writes, "Last year for my 'golden birthday', you gave me the best birthday present I could have asked for - you donated $323,803 to bring clean water to over 16,000 people! It felt so amazing to have my fans; friends and family do something so inspiring for my birthday."
 
"I've been asked what I would like people to do this year for my 30th birthday. I'd like to invite you to join me and 'give up' your birthday this year. Wait until you see how amazing it feels. Together, I bet we can raise over $1 million and bring thousands more people clean water."