Adam Campbell And Alexis Carra Talk 'Mixology'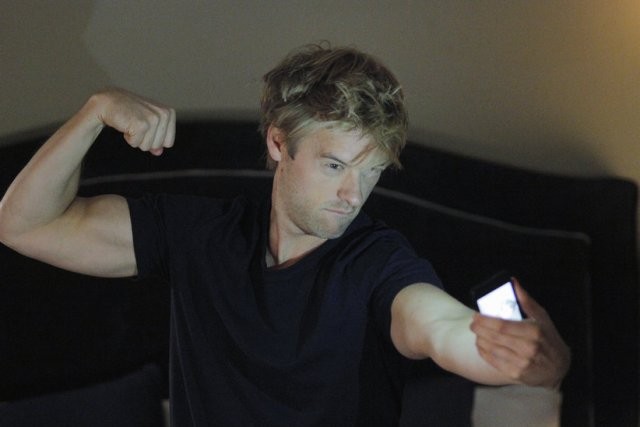 As ABC's Mixology heads down the home stretch of its first season, it's time to focus on Jessica and Ron. The single mother played by Alexis Carra and the really, really unlucky former Internet millionaire played by Adam Campbell have both had their ups and downs this season - but tonight their stories are about to intersect again. We checked in with Adam and Alexis to find out more, talk about their chemistry together, and get their best (or worst) dating advice.
We'll let Adam explain tonight's installment to you. "Much of this episode centers on Ron making up for his disastrous first impression when he vomited in Jessica's clutch. Jessica is kind enough to forgive him, and sure enough, they begin the 'date' again," he teased. "There is definitely a strong connection there, and it's clear that Ron is drawn to Jessica's no-nonsense, matter-of-fact approach to men, which involves texting him graphic images of herself. Ladies, learn!"
"Although the episode focuses on Jessica and Ron, it also delves deeply into the culture of redheads," he continued. "This topic I find quite interesting, as I knowingly married one. There are a few ground-rules: keep them out of the sun, never bring up their difficult high-school years and do not look directly into their eyes."
(Okay, if that doesn't convince you to watch tonight's episode, we don't know what will.)
This isn't the first time that Adam and Alexis have worked together this season; Ron's story actually began when he came to the bar to meet Jessica for a date. So how would they say that they worked together? "Alexis Carra is one of the funniest, most vivacious curly-headed people I have ever worked with," Adam enthused.
"She is taller than me, and, rather gallantly, removed her high-heels for any of our walking scenes.  She is a phenomenal dancer, and prefers to be called 'latina' rather than 'latino' (I learned the hard way). It was a great treat to have a whole episode devoted to our characters."
"Adam Campbell is always a seminal professional and we both like to bring something new to each take.  Adam is an awesome improviser so that always added a layer of spontaneity and fun. I'd work with Adam any day!" agreed Alexis.
"This cast is a dream cast.  We also got to work with a lot of different directors so it always felt very fresh and spontaneous.  Each of us has a way of bringing new things out in each other's characters so getting to work with so many different characters was one of the best parts of shooting Mixology.  We kept each other on our toes!"