Actress Katie Finneran Pregnant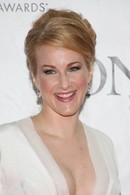 Actors Katie Finneran and Darren Goldstein have extra reason to celebrate this Christmas - they're expecting their second child.

Tony Award winner Finneran gave birth to the couple's son, Ty, in February and now she is pregnant with a sibling for the tot.

She tells People.com, "Life could not be better right now. The idea that our 10-month old is going to be a big brother is simply thrilling!"

The actress wed Damages star Goldstein in August, 2010.