Actor Sam Jones III Sentenced To A Year In Prison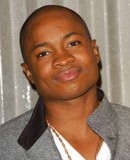 Actor Sam Jones III has been sentenced to serve a year behind bars for his role in a major Los Angeles drug ring.

The former Smallville star will spend 366 days in federal prison after he was sentenced on Wednesday morning.

Jones pleaded guilty to conspiracy to sell more than 10,000 Oxycodone pills.

Federal authorities initially called for a five-year sentence, but the judge gave him a break, insisting Jones only had a minor role in the drug deal, according to TMZ.com.

It is not known where or when Jones will have to surrender to authorities.