Actor Michael Colyar Blasts Airline Staff As Racist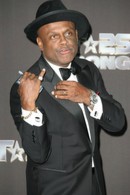 Comedian Michael Colyar has accused staff onboard a recent U.S. flight of racial discrimination after he was kicked off the aircraft following a baggage dispute.

The black actor, who voiced a character in Disney's animated The Princess and the Frog, claims a flight attendant on a United Airlines plane in Virginia asked him to move his luggage from the overhead storage bin so a Caucasian passenger could fit her bags in the compartment.

He refused the request and became embroiled in a heated exchange with the stewardess, prompting her to call in security to have him escorted off the plane, which was due to depart Dulles International Airport in Virginia.

Colyar alleges the attendant only called for back-up when he asked about filing a complaint against United Airlines, and he's adamant there was a racial motive behind her actions.

In a post on his blog, he writes, "The flight attendant and her friend got just what they wanted, the n**ger off the plane. I'm sure they feel a great triumph in putting an uppity n**ger in his place.

"At the least I should be suing United Airlines for theft of services, public humiliation and defamation of character."

United Airlines officials are looking into the August incident and a representative tells TMZ.com they are working to resolve the issue with Coylar.

The spokesperson says, "As a global airline with a diverse workforce, United has zero tolerance for any type of discrimination and we take every such matter seriously. We spoke to Mr. Colyar (on) Wednesday so that we can address his concerns, and committed to get back to him as we learn more from our coworkers and other customers onboard."