Ace Frehley Believes Fame Turned Gene Simmons Into A 'Sex Addict'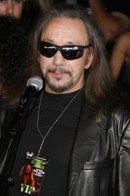 Rock wildman Gene Simmons struggled to bed women before finding fame but the glare of the spotlight turned him into a "sex addict", according to his Kiss band mate Ace Frehley.

Simmons, who wed his long-term lover Shannon Tweed in October, only slept with women "once or twice a year" in the early days of the band, Frehley claims in a new book.
However, after shooting to stardom, he bedded hundreds of groupies to make up for lost time.

According to New York Post gossip column Page Six, Frehley is quoted in new tell-all tome No Regrets as saying, "I believe Gene is a sex addict, in much the same way I am an alcoholic. If you've been with only one or two women (and had to beg for whatever you got off them), it must be intoxicating to suddenly have groupies falling all over you.

"You go from getting laid once or twice a year to getting laid a hundred times by a hundred different women. We all have our issues and vices, and I saw Gene's behavior affect him and the band sometimes in a negative way... (He) would f**k almost anything. Short, tall, plump, svelte, attractive, merely tolerable."