ABC's 'Splash' Episode 2 Recap: Blood, Broken Foot And An Almost Wipeout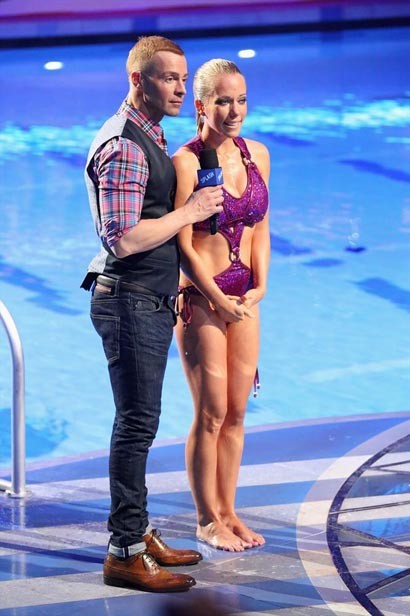 ABC's latest "celebrities-try-this" hit seems to be more like an episode of Wipeout then an actual diving competition as the celebrities headed back to the pool to make another splash in episode 2 of ABC's Splash.  Those who hit the pool were Chuy Bravo, Drake Bell, Nicole Eggert, Ndamukong Suh and Kendra Wilkinson.
However, the big news of the night was that Chelsea Handler's little nugget of joy was out of the competition do to a broken foot, but luckily for us viewers at home he was replaced by Splash's alternate, 1999 Women's World Cup Winner and gold medalist soccer player, Brandi Chastain. Yes, we were sad to see our little nugget out of the competition, but Brandi was pretty bad ass with her first dive in the competition. Though Brandi had one of the lowest dive scores of the night, placing her in the "dive off," you have to remember she hadn't been training with any of the  coaches and had to practice on her own -- you go girl!

Then the former kids start Drake Bell did not disappoint. He took to the diving board and  knocked it out the park with one of the highest scores of the evening.

Up next, Nicole Eggert, former Baywatch beauty, who had an awful pre-dive warm-up, which saw her almost face plant off the diving platform, took to the pool. Admitting that, "it scared the heck out of me," she cried before her dive, but she bounced back, after having to attempt the dive twice, with the score of 7.5.
Kendra Wilkinson after being scared of heights and fighting with Greg Louganis in practice scored one the highest dives of the evening.

But the craziest moment in the evening came from NFL Detroit Lions, Ndamukong Suh. Ndamukong had a rough practice, which saw the 6' 4'' and 300 plus pounds defensive tackle with a bloody nose after hitting his face on the bottom of the pool, did not fair that much better in  the competition with the lowest score of the night placing him in the "dive off" and eventually sending him packing.
So this week on Splash we said farewell to our friends Chuy Bravo and Ndamukong Suh, but next week is team diving and that should definitely be interesting.