ABC's Shondaland Thursday Stars Take On The ALS Ice Bucket Challenge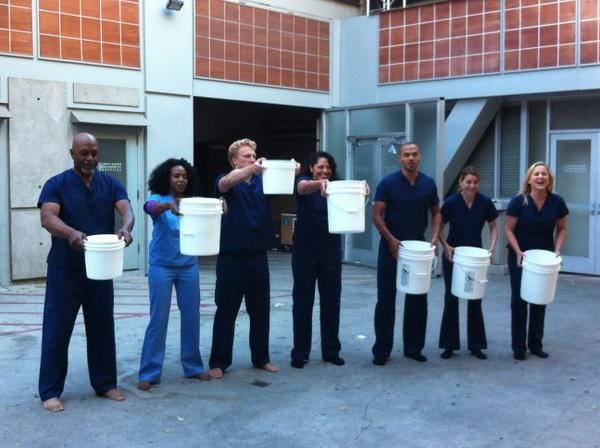 This fall, ABC's "Shondaland Thursday" (coined after Shonda Rhimes) is sure to heat up now that Grey's Anatomy, Scandal and How to Get Away With Murder will all air on the same night, but the stars of all three shows kept cool this week by taking on the ALS Ice Bucket Challenge.
The challenge, put in motion by the ALS Association, initially began as a way to create awareness for Amyotrophic lateral sclerosis (ALS). Participants are urged to dump a bucket of ice water over their head or donate to the charity. As of Monday, Aug. 18, the ALS Association raised $15.6 million in donations.
The friendly competition between the network neighbors started when Grey's Anatomy stars Jesse Williams, Ellen Pompeo, Jessica Capshaw, Sara Ramirez, Kevin McKidd, Jerrika Hinton and James Pickens Jr. decided to nominate the casts of Scandal and How to Get Away With Murder to complete the challenge.
Kerry Washington completed the challenge solo, on behalf of the whole cast of Scandal, to avoid any spoilers since the show was shooting that day. She was also nominated by Disney CEO Bob Iger.
Several cast members of How to Get Away With Murder, including Aja Naomi King, Katie Findlay and Matt McGorry, also accepted the challenge. In turn, they nominated the casts of ABC's Secrets and Lies and Black-ish.
The new "Thank God It's Thursday (#TGIT)" lineup premieres Thursday, Sept. 25 at 8 p.m. on ABC.