ABC Yanks 'Jamie Oliver's Food Revolution' For 'DWTS' Recaps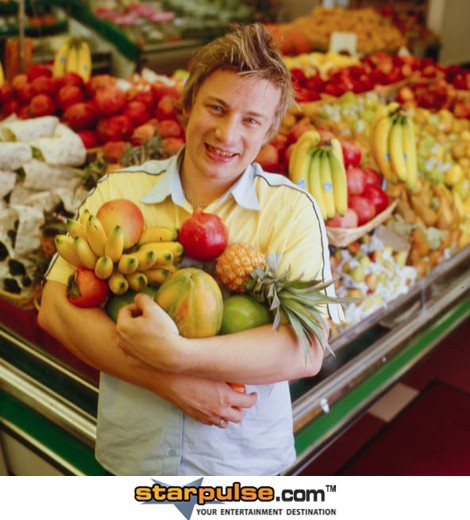 Sad news today: Entertainment Weekly's James Hibberd reports that ABC has removed Jamie Oliver's Food Revolution from its May schedule. The series, which pulled in 5 million viewers with its last scheduled airing (only the second episode of its season!), will be replaced by more Dancing With The Stars recap shows.
5 million viewers isn't stellar, but it certainly wasn't anything to sneeze at. To give you an idea of where those figures fall, let's consult last night's broadcast ratings: 5 million is more than any of the new episodes NBC aired last night (Chuck saw 4.12, The Event 4.02 and Law & Order: LA 4.81) and far more than new shows on The CW (its highest rated show was 90210 with 1.5 million). Food Revolution was no record-breaker but it was pulling fair numbers.
And Los Angeles Unified School District Superintendent John Deasy recently appeared with Oliver on the network's Jimmy Kimmel Live to announce that the LAUSD would remove flavored milk from its schools - the sugar content of which was something that had been a topic of discussion in both seasons of Food Revolution.
Still, those things weren't enough to satisfy ABC execs, who had already preempted the series for Dancing recaps twice. And people tuned in: the first recap show far outpaced Food Revolution with 13 million viewers.
So what happens next?
In what can probably be seen as a kiss of death for Food Revolution, its remaining four episodes will be sent to Friday nights at 9 PM, beginning on June 3. With a scheduling move like that, it seems unlikely that the network would order any additional seasons of the series, marking the end - at least on television - for Jamie Oliver's crusade to clean up the eating habits of American youth and families.
I wrote when the second season premiered - almost a month ago - of the importance of having an educational series like Food Revolution, whether or not you agree with its message. When so many people decry television as a mindless medium (you've heard the rhetoric before, certainly) it's frustrating and sad that thought-provoking programming will now be replaced by even more reality television...not only that, but recaps of reality TV. (No offense to Dancing's countless fans, but the idea of an entire hour to recap a show that just aired the day before seems a little bit much to me.)
As of yet, Oliver has not made any public comments about the schedule change.
Did you watch this season of Jamie Oliver's Food Revolution? What did you think? Are you disappointed in ABC's decision to bench the show?