ABC Renews Six Shows For Next Season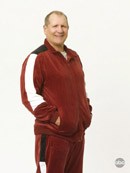 In an early vote of confidence, ABC renewed six series for next season.  None of the choices is particularly surprising since none were on the bubble.  The shows are:
'Grey's Anatomy'
'Cougar Town'
'Private Practice'
'Modern Family'
'The Middle'
'Castle'
Missing from the list?  'Desperate Housewives,' said to be held up by contract negotiations, but expect it to be back.  Any series not on this list does not mean ABC will not renew it; the network has until May to make final decisions, and sometimes it goes down to the wire.  Stay tuned.