Abby Lee Miller On Guest Judging 'Dancing With The Stars'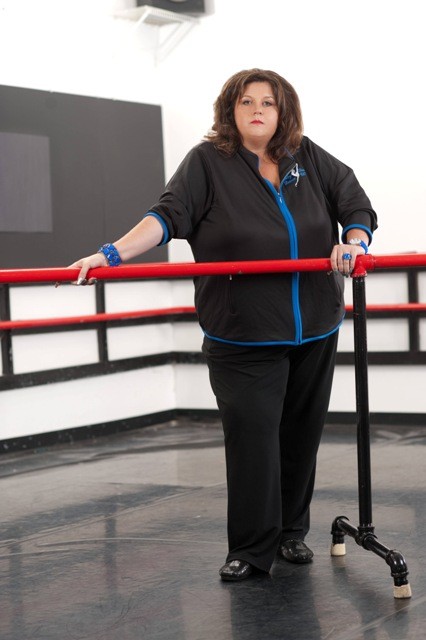 The newest Dancing with the Stars guest judge is a familiar face to anyone who watches dance on TV: she's Abby Lee Miller, founder of the Abby Lee Dance Company and star of Lifetime's Dance Moms and Abby's Ultimate Dance Competition. In anticipation of Abby Lee taking the third judge's chair tonight, BFTV asked her a few questions Friday about what we can expect from her on DWTS.
"Dancing with the Stars was trying to get me to be a contestant for two consecutive seasons," she revealed. "And I guess I mentioned at one point, well, I'm really not interested in being a contestant right now, because we shoot almost the same schedule they shoot [for Dance Moms]. There's no way Lifetime would ever have let me out of a contract to go do it. I must have said, hey if you ever need a guest judge I would be interested."
Abby Lee will be no pushover at the judges' table, given that she actually has filled the judge role professionally. "I judge competitions all the time. Before we had the show, I judged constantly all over the US and Canada," she said. "I'm used to that and I'm used to actually talking...I'm used to critiquing the whole time the dance is going on, through the dance.
What might be different for her is working alongside the other two members of the panel. "When you judge on a panel with other judges, what the person before you says sometimes influences your own decision on what you were going to say," she told us. Such as if the person before you happens to bring up what you were going to discuss, "Now you have to go deeper and you have to think, okay, what was my next thing I wanted to say?" she continued. "So that's a little weird to me. But otherwise I think it's going to be good."
"Now that it's down to just these last several [couples], I think they're all going to be amazing," she continued. "I had mentioned to the directors about doing contemporary or lyrical or something when I'm on the panel to judge, because I just thought it would be more interesting. So I hope that some of the couples are going to do something more than strictly ballroom."
Abby Lee also spoke with us about the emergence of dance-related programs on the air, including her own. "We've been struggling for so long to get dance on television," she told us, pointing toward when the Dance Masters of America couldn't find anyone interested in airing their national competition. "And now look. You have So You Think You Can Dance, you have Dance Moms, Abby's Ultimate Dance Competition, you have Dancing with the Stars. It's incredible."
When she's judging tonight, not only will it be a professional get for the show, but it'll be personal for her, too. "My mom passed away February 8, and this was her absolute favorite show," she told us. "I just wish she was here to see me judge."
Dancing with the Stars airs tonight at 8 PM ET/PT on ABC.
(c)2014 Brittany Frederick. Appears at Starpulse with permission. All rights reserved. No reproduction permitted. Visit my official website and follow me on Twitter at @tvbrittanyf.