ABBA's Bjorn Ulvaeus Thrilled By New Copyright Law Passed By European Union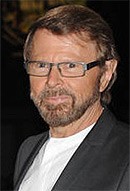 ABBA star Bjorn Ulvaeus was thrilled by a new ruling by the European Union that will see the copyright on sound recordings extended from 50 to 70 years.

"Now I won't have to see ABBA being used in a TV commercial," he says.

The ruling was the result of a proposal from British singer Cliff Richard, who proposed to give composers an extra 25 years to benefit from their creations. On Monday, members of the European Union Council voted in favor of the "Saviour's Day" singer's proposal; however instead of 25 years they extended the copyright on sound recordings by 20 years.

Under the 50-year rule, the copyright on songs by Richard, The Beatles, The Rolling Stones and The Who would have expired in the next few years, allowing anyone to use the songs in any way - and the performers and record labels would have ceased to receive royalties.

Rolling Stones star Mick Jagger tells the BBC that the EU's decision was "obviously advantageous" to musicians, adding, "Obviously the record business is not what it was, so people don't earn as much as they used to. (The royalties) can extend their lives and the lives of their families who inherit their songs."