'Aarti Party's' Indian Menu Brings Food Network Much-Need Diversity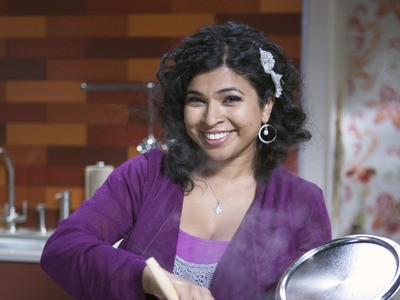 Effervescent, flower-donning "Next Food Network Star" champ Aarti Sequeira kicked off her new cooking program a couple of weeks ago, based off the online show she independently produced pre-Food Network.  It's called "Aarti Party," and features dishes inspired by Aarti's Indian roots.
The Mumbai-born Northwestern grad is Food Network's first Asian host since Ming Tsai, whose show "East Meets West" ran on the channel from 1998 to 2003.  "Aarti Party" is also Food Network's first show to focus on Indian cuisine, and second to Tsai's to primarily feature Asian food of any kind.
Sure, there's Iron Chef Masaharu Morimoto, who frequently calls upon his homeland's culinary influences on the American version of the Japanese competition show, but he's never had a solo gig that's focused on Japanese cooking.
Most of Food Network's programming has featured American food, especially Southern food, with hosts like Paula Deen, Gina and Pat Neely, and former "Next Food Network Star" winner, Aaron McCargo, Jr.  The channel also likes to teach viewers how to cook quickly using a limited amount of store-bought, pre-packaged ingredients.  Network hosts who've utilized this approach include Sandra Lee, Robin Miller, "Next Food Network Star" Melissa D'Arabian, Claire Robinson and media maven Rachael Ray.
Probably Food Network's biggest departure from these formulas (that's seen long-lasting success) is the Italian food prepared by Giada de Laurentiis, who also served as a judge on this season of "Next Food Network Star." They've taken stabs at Latino, and Ina Garten occasionally prepares something Kosher, but few other cuisines have garnered significant airtime in the network's 17 year history.
Grocery stocks are astonishingly wider than they were ten or twenty years ago, when stuff as commonplace as capers or Thai chili sauce were nowhere to be found.  In our increasingly globalized society, Americans' tastes are diversifying rapidly, and it's time Food Network reflected the change.
It's possible that Food Network realized this when they launched a sister station, the Cooking Channel, earlier this year.  Cooking Channel seemingly caters to more discriminating foodies, with programming that showcases a potpourri of global eats, like Vietnamese, French, Caribbean, Spanish, Chinese and traditional British.
Granted, Aarti's Indian food is fairly "accessible" -- with dishes like pulled pork and cole slaw, it leans more toward Indian-American than solely Indian.  But it's a step in the right direction to broadening audience's palettes. 
Finishing its sixth season, "Next Food Network Star" nabbed the highest ratings of all cooking shows on cable this summer.  Another of the show's alumni, winner Guy Fieri, has enjoyed success with multiple shows on Food Network, as well as hosting stunt game show "Minute to Win It" on NBC.
Catch "Aarti Party" Sundays at noon on Food Network.