Aaron Sorkin Says He's Returning To TV With New Series For HBO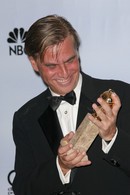 He's got a Golden Globe win and an Oscar nomination for The Social Network, but he's not done yet. In a recent interview with BBC Breakfast, Aaron Sorkin revealed details of a project that's sure to sound familiar to any of his fans: a series set behind the scenes in television.
This time - his fourth television series - Sorkin is turning his eye toward cable news for HBO. "I've written the pilot episode and we're casting it right now," he says in the interview, though the premium network has made no official statement regarding a future project. Of course, writing and casting a pilot is no guarantee that it will be ordered to series, but with Sorkin's current critical acclaim, it seems unlikely that the network would pass on the venture.
Sorkin is no stranger to peering behind the curtain of television. He tackled what it takes to make a Saturday Night Live-type sketch comedy series in the short-lived Studio 60 on the Sunset Strip, which lasted only one season on NBC despite the presence of Matthew Perry and Bradley Whitford. His start, however, came on ABC with my favorite television series of all time - Sports Night, which introduced us to life behind the scenes of a nightly sports news program. It lasted only two seasons, but remains beloved in the hearts of critics and fans alike. Many of its cast went on to further success after its end: Peter Krause with Six Feet Under and now Parenthood, Joshua Malina taking a regular role on Sorkin's The West Wing, Felicity Huffman joining Desperate Housewives and Josh Charles in CBS' The Good Wife.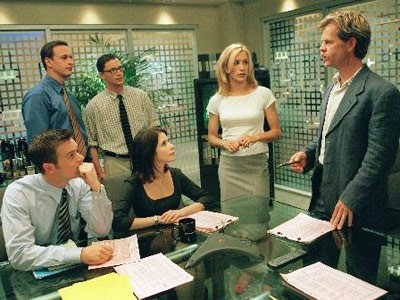 At face value, this as-yet-untitled series sounds an awful lot like Sports Night, just with a focus on cable news instead of cable sports. Nothing is going to be able to touch how great that series was, which makes me worry that this project may feel like an attempt to reproduce that show's brilliance. I'll watch anything that Sorkin writes, however, as he's still one of the best writers on television today, if not ever. I certainly hope this series fares better than Studio 60.
What do you think? Are you excited that Aaron Sorkin is coming back to television? Do you have high hopes for his return?