A Young Woman Comes Of Age In 'The Young Victoria'

The Young Victoria
, which makes its debut in America today, is a romantic period film that depicts a realistic historical view of 19th century United Kingdom, and more specifically the post-Victorian era and early reign of England's Queen Victoria.
Directed by Jean-Marc Vallée, and starring
Emily Blunt
, the motion picture supports more than one parallel storylines to bring about a cohesive picture of Vallée's main purpose.
The film follows Blunt, cast as a very young strong willed Princess Victoria during her pre-eminent rise and monarchical ascendancy, her struggles prior to her coronation to the throne of England as her given ancestral right in 1837, and her journey into womanhood.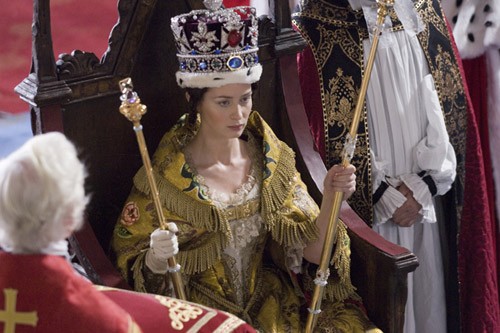 Image © Digital Buzz
From youth, her forthcoming role and given birthright is clearly understood, and the future queen does not flinch. This is made more than evident in the beginning of the film through a mother-daughter conflict with the young queen going head to head with her own mother, the Duchess of Kent (
Miranda Richardson
) on matters and decisions in regards to how her future is to be played out. The behind-the-scenes review of royal family political agendas regarding the matter of the monarchy itself, plus added relative familial power struggles, are fittingly placed.
The film's most powerful thematic foundation is Queen Victoria's romantic courtship, friendship, and relationship with her life-long chosen noble suitor, lover, and future husband Prince Albert of Saxe-Coburg and Gotha, starring
Rupert Friend
. Though the pair's first meeting is arranged, thanks to stellar performances by Blunt and Friend, both characters quickly come to find an intimate understanding and trust based on their shared common emotional struggles and values. The romance certainly has its thorns, but all are quickly pruned in favor in love. "Only You," a track performed by
Sinead O'Connor
, serves as the selected love theme of the film.
The film's cinematic achievement is in displaying a perhaps unknown side of Queen Victoria aside from those qualities and standards that have now become epitomized as "Victorian." "The Young Victoria" is the human cinema of a young woman coming of age into adulthood while standing by her convictions prior to her coronation, her passion to understand her role as queen, and what that means in particular to the people of her of country.
Story by
Claudine Paul
Starpulse contributing writer