A Wish List For 'Top Gear' US Season 3
Hide your car keys: tonight marks the third-season premiere of History's Top Gear, bringing back hosts Adam Ferrara, Tanner Foust and Rutledge Wood for more automotive shenanigans. It's taken them a little time to find their footing, but these guys have proven that they're just as fearless (or some would say reckless) as their British counterparts.
Last season we saw Adam get the middle finger from Cloris Leachman and Rutledge flipping a racing truck, just to name two of the things they were subjected to. One can only imagine season three will be bigger and more hazardous to their health.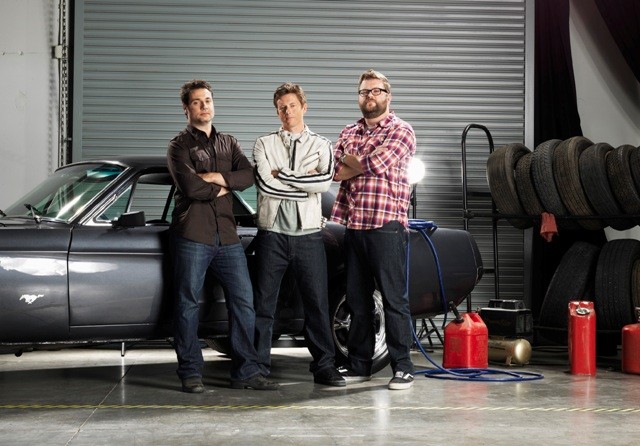 Here are some things I want to see from this season of Top Gear, or at least, somewhere in the show's future:
The guys host a drivetime radio show. Series eight, episode two of the original Top Gear is one of my favorites, because of the challenge: Jeremy, Richard and James are enlisted to host a program for BBC Southern Counties Radio. They promptly proceed to ruin it. I can only imagine that the same craziness would ensue if we let our US hosts have a crack at the same gig. Adam has been a guest radio DJ and Rutledge is a veteran TV host, so how hard could it be?
More cars being destroyed by Adam. Adam's nickname of "The Wrecker" is well-deserved, as we've seen him destroy plenty of cars over the first two seasons, and it's both sad and hilarious at the same time. He really knows how to unintentionally dismantle or combust a vehicle, and that's one of the most entertaining things about the show. To that end, my recaps this season will now feature the Adam Ferrara Destruction Counter, which will keep track of the number of vehicles Adam wrecks or renders inoperable throughout Season 3.
A proper Los Angeles race. In series ten, episode five of Top Gear UK, the presenters and The Stig test every available mode of transport across London, with James in a car, Richard on a bike, Jeremy in a boat, and Stig riding public transportation. Complete madness ensued, with Richard insisting that the show was ruined by the results (which I won't spoil if you haven't seen the video). What if we transported that to the similarly traffic-swamped streets of Los Angeles? I'll tell you what: Adam would get road rage, Rutledge would get stuck on the Metro, and Tanner would look hilarious in bicycle shorts.
The guys improve the DMV. It's the bane of drivers everywhere. We all dread having to go to the Department of Motor Vehicles. Top Gear has come up with plenty of crazy ideas for making cars better or different, so why not sic Adam, Tanner and Rutledge on the DMV to see if they could come up with ideas to make it more tolerable? Would any of them survive a shift behind the counter there? Probably not. Well, maybe Rutledge, because I've never seen him in anything resembling a bad mood.
A caravan holiday. Another British Top Gear classic is the ill-fated camping trip from series eight, episode six, which ended with Jeremy accidentally setting fire to both the TG caravan and a neighboring campsite. I can only imagine what putting Adam, Tanner and Rutledge into a slow-moving box for a weekend would do to them.
Getting rid of the on-screen graphics during track laps. I've griped about this since the first season, but there's really no need to show me a map of the track and a speedometer as a car records a lap time. It doesn't add anything to the show, especially as the narration is telling me the same information anyway.
A crossover with the original edition. Something else that's been on my wish list since the word "go" - we've seen episodes of the British TG that have involved their German and Australian counterparts, so why not get the Brits over here for double the mayhem with their American counterparts? I know the US team is up for it, and Richard Hammond told me in our interview that he thinks well of our crew, so let's make this happen! Maybe not this season, but it's got to be done.
Adam Levine coming back for another lap as the Big Star, Small Car. I'm very biased on this one, but having spent enough time with the lead singer of Maroon 5 to know how competitive he is, I believed him when he said he could have climbed his way to the top of the celebrity leaderboard with another half hour on the track. I want him to come back so we can put those words to the test. Alas, Maroon 5 has just started their South American tour in support of their new album, so this will probably stay on the wish list, for now anyway.
Top Gear premieres tonight at 9 PM ET/PT on History. If you're on Twitter, you can also join Adam, Tanner and Rutledge (and myself!) for some live-tweeting during the episode.
And now, an important announcement for all Southern California TG fans: tickets for Adam Ferrara's February 20, 2013 shows at the House of Blues, benefiting 9/11-related charities and put together by the great folks at the 9/11 Patch Project, are now on sale to the general public via the House of Blues website They range from $25-$45. For more information on what's going to be an awesome evening for great causes, click on over to my article and read the rundown, then click here to get your tickets.
For more from Brittany Frederick, visit my Starpulse writer page and follow me on Twitter (@tvbrittanyf).
(c)2012 Brittany Frederick/Digital Airwaves. Appears at Starpulse with permission. All rights reserved. No reproduction permitted.