A Who's Who Of Country Music Stars Perform At George Jones' Funeral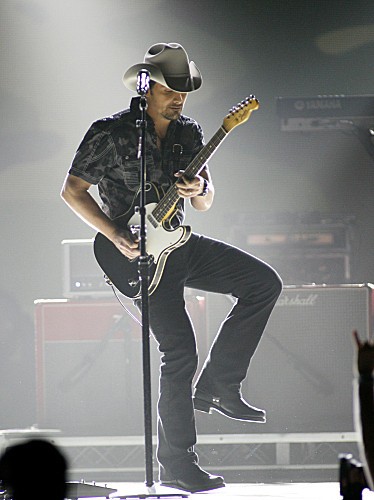 A cadre of country rock stars performed at George Jones' funeral in Nashville, Tennessee, today. Kid Rock, Brad Paisley and Alan Jackson were among those who headed to The Grand Ole Opry House to pay their respects to Jones, who died on Friday at age 81.
The funeral began with the opening hymn "Old Rugged Cross" by Tanya Tucker and the Imperials. Kenny Chesney, Charlie Daniels, Vince Gill, Wynonna Judd and Randy Travis also performed or spoke at the ceremony. Travis Tritt, Ronnie Milsap, and Patty Loveless also turned up. Former First Lady Laura Bush and Tennessee Governor Bill Haslam also attended.
Jones' publicist Kirt Webster states, "The caliber of speakers and performers is a testament to what George Jones meant to everyone in the world. (Wife) Nancy is overwhelmed by the love and support of not only George's fans, but also the music community, public figures and friends."
Thousands of fans lined up to pay their respects to the country star. On Wednesday night, hundreds of people came out to the Woodlawn Memorial Park for a private visitation.
Jones was one of country music's biggest stars, charting nearly 150 singles, beginning with "White Lightning" in 1959. Throughout his career, Jones made headlines often as much for tales of his drinking, relationships/marriages and violent rages, as for his prolific career of making records and touring.