A Very Pregnant Vanessa Minnillo Shares A Photo Of Her Huge Baby Bump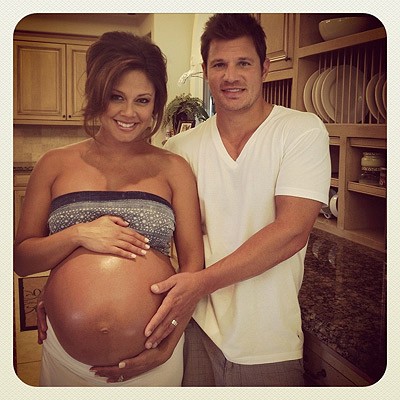 Vanessa Minnillo is ready to give birth any day now. The former MTV VJ posted a picture of herself and husband Nick Lachey both holding her ginormous belly to her Twitter page Wednesday night with the message, "My Happiness... My Family! Ahhh, My Boys! (Wookie included) ;-) " (we assume Wookie is one of their pets).
Believe it or not, but Vanessa isn't due until September; and it doesn't sound like being pregnant during the dog days of summer are bothering her one bit.

"I love everything about being pregnant! It's empowering as a woman to be able to go through this process and create a human being," she recently told Us Weekly.

As for Nick, his old boy-band 98 Degrees recently announced that they're reuniting. The group will perform on The Today Show on August 17 as part of the show's Summer Concert Series; after which they'll head to Hershey, Pennsylvania for the first annual Mixtape Festival for a second planned appearance alongside such artists as Kelly Clarkson and LL Cool J.

"In the ten years since our last performance as 98 Degrees we've each achieved personal success and grown as individuals, while remaining a close-knit family," the band said Tuesday in a statement to the press. "With so much to celebrate, this reunion is going to be one big party, so whether you tune in to the Today Show or join us at the MixTape Festival, everyone's invited."

Last month Minnillo announced the news that the couple is expecting a boy.

"Nick and I are incredibly excited to share the news that we are expecting a baby boy. We can't wait to meet him soon!!!" she tweeted.