A Very Pregnant Kate Winslet Glows At U.K. 'Labor Day' Premiere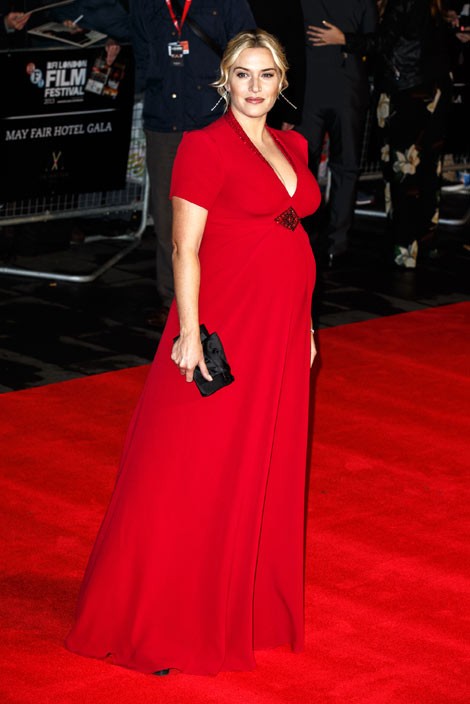 We spotted a heavily pregnant Kate Winslet hit the red carpet in London's Leicester Square last night for the premiere of her upcoming film "Labor Day." The actress, 38, looked glamorous in a low-cut crimson gown that showed off her mommy curves.
Winslet revealed in June that she and third husband Ned Rocknroll are expecting their first child together. She also has a daughter, Mia, 13, and son, Joe, 9.
Her new film centers on a teenage boy and his mother who let an injured man take refuge in their home. Over the next four days, they're taken "hostage" by the man, who ultimately captures them, body and soul. The film hits U.S. theaters in December.
During the premiere, Winslet told the press she was feeling "fine" in her condition, adding:  "I mean, I've still got a way to go, so I'm not quite waddling. Just don't let me sneeze, because I might wet myself at the same time."

She said that she doesn't have any strange pregnancy cravings. All she really wants is orange juice.
"I don't know quite why that is, but it's not so weird. I wish I could tell you I had some weird craving. I wish I could be like that woman on the advert who loves tuna fish and banana, but I'm not like that at all," she said.