A Very Pregnant Gisele Bundchen Rocks A Leopard-Print Bikini In Miami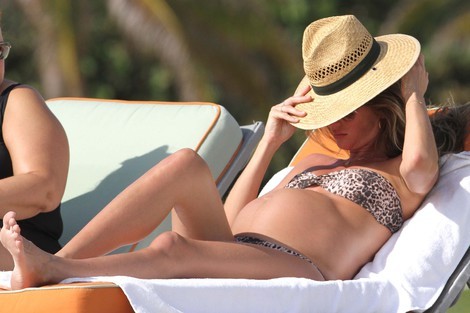 We spotted Gisele Bundchen spending the day at the beach in Miami, Florida, on Sunday. The supermodel showed off her baby bump in a tiny, leopard-print bikini and straw hat. Not many women are brave enough to don bikinis when they are so far along in their pregnancies, but Gisele definitely has the body to do it!
It won't be too long for Bundchen and her husband, Patriots quarterback Tom Brady, to welcome their second child. In August the Brazilian model reportedly told South American network TV Global that she was five months along.
She and Tom have a son named Benjamin Rein Brady, who turns three next month. The football star also has a 5-year-old son with ex-girlfriend Bridget Moynahan.
Gisele and Tom are the second wealthiest couple in the world. According to Forbes magazine, they had a net worth of $72 million from August 2011 to August 2012.
See more photos of Gisele's baby bump...