A Starpulse Writer's Pop Culture TV Christmas List

Dear Santa:
I don't believe one can ever be too old to believe in the magic and spirit of the holiday season, nor do I believe one shouldn't be able to ask for something they want. After all, if Oprah and The Secret taught us anything, it is that you have to put what you want out in the universe in order to have a shot at getting them. So keeping that in mind, here is my not-so grown-up Christmas list!
Is it just me, Santa, or is it really annoying when a studio puts out the first season or two of a favorite old show on DVD just to see what kind of response it will get but then makes no plans to release the rest of the series? Okay, occasionally, they will release the rest, albeit slowly, and spread apart by months and volumes, like they did with the original
Melrose Place
. However, what about shows like
California Dreams
or
The Nanny
or even the more recent (and bigger hit)
The New Adventures of Old Christine!
? This year, for my Pop Culture Christmas, I am asking you to bring me the complete series of those three show (well, with The Nanny, they can cut off when Max and Fran get together; no one cares about the "I'm having twins and moving to LA" season)!
This next part may sound surprising, coming from me, such a diehard
Jensen Ackles
fan and all, but I am also asking this year that for once the creator of a show (in this case Eric Kripke) gets his wish and his show ends when he wanted and planned for it to. Come May 2010,
Supernatural
should be no more. The actors (and crew!) should move on to bigger and better things, and the mythology surrounding the Winchester boys and company should be wrapped up. In other words, Dawn Ostroff can shove off and focus her energy on her network's fledging shows that really wouldn't be fledging if she had shown them even the slightest interest and care.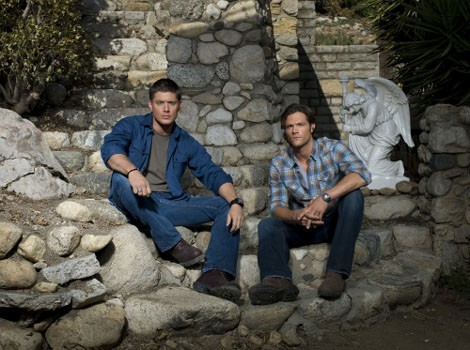 Image © The CW Network, LLC.
For my favorite television shows, stars, and characters:
1) I hope Drea de Matteo moves gets more involved with the other ladies on Wisteria Lane (
Desperate Housewives
) because she is the shot in the arm that show needs to stay funny and relevant.
2) I want
Dexter
and Rita to split up simply so she can take Aster away (maybe even moving in with Deb) so they can be whiny and moody together, while Dexter can focus on the more important things in his life-- like finally killing Trinity.
3) I hope Pam and Jim name their baby after Michael Scott (
The Office
). Because since they met in his office, their union is thanks to him, after all!
4) I want Amber Riley to do a Mariah medley on
Glee
.
I'm not trying to be greedy, but I'd also like a
Saved By The Bell
made-for-TV movie reunion, as well as one for
Friends
. And if you have some extra time, I'd like to know the last line of Amy Sherman-Palladino's intended
Gilmore Girls
finale. That is one reunion that has been hinted at of late, but I'd prefer to leave that series well enough alone.
On behalf of my friends, I'd like to ask for a new
Joss Whedon
show...that isn't on Fox. I think anyone who is a fan of his can understand why.
And, I guess, world peace.
Story by
Danielle Turchiano
Starpulse contributing writer