A Sober Ghostface Killah Readies New Album; Wu-Tang Clan Reunion Tour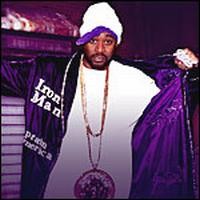 With his signature gold eagle cuff and oversized medallions, his impeccable collection of robes, his Mexican wrestling masks and his infamous alter ego - Tony Starks a.k.a. Ironman - Shoalin's favorite son,
Ghostface Killah
, is hip-hop's resident superhero. And don't think he doesn't know it: this spring he is set to release a limited edition 9" tall action figure of himself, complete with real 14 karat gold jewelry. But true hip-hop fans know Ghostface as much more than the hyper-animated character he portrays onstage. They know him as one of the game's most talented and beloved MCs, a gifted wordsmith and rapper's rapper who also speaks to the everyday struggles of the hood and the average fan.
And legions of them have followed Ghostface throughout his storied career: from a member of the legendary
Wu-Tang Clan
, to his shotgun role on
Raekwon
's instant classic
Only Built 4 Cuban Linx album
(click for review), to his own series of solo classics
Ironman
,
Supreme Clientele
,
Bulletproof Wallets
and
The Pretty Tony LP
. And on February 28, Ghostface will add to that legacy with the release of his fifth album, and second for Def Jam Recordings,
Fishscale
.
"Back Like That," Fishscale's soulful first single, is vintage Ghostface and is already gathering heat from radio and the streets. Featuring Def Jam's rapidly-rising young star
Ne-Yo
, the track finds Ghost in a familiar everyman role, bemoaning a vengeful ex who's been seen around with a bitter rival. "Ghostface is one of the most original hip-hop artists around," Ne-Yo recently told MTV News. "He's a legend. Just to be considered for the song was an honor. He's true hip-hop."
Armed with production from
MF DOOM
,
Pete Rock
, J.Dilla,
MadLib
, and many others, the broad shouldered Ghost stands ready and willing to carry the Wu Tang's burden and return rap to its proper course. "Fishscale is just me showing that I can still ball with the best of them," says Ghost. "With each album I learn, so this album has the most knowledge of all of them."
Songs like "Kilo," featuring old friend Raekwon, and "Be Easy," the Pete Rock mixtape burner released last fall, demonstrate this knowledge with their effortless brilliance. Free of intoxicants ("I haven't smoked in over 2 years," says the one time psychedelic fanatic.), Ghost's flow is focused and free. "This album is gonna put me back on top of everyone's list," he says. "Ain't nobody approaching they music with the care that I do."

With the recording of Fishscale complete, Ghost - a seasoned veteran of the road - will reunite with his Wu-Tang brethren for an East Coast club tour throughout the month of February. Stay tuned for more info on hip-hop's Ironman, Ghostface Killah.
WU-TANG 2006 REUNION TOUR DATES:
2/7/2006 New Haven, CT Toads Place
2/8/2006 Boston, MA Palladium Nightclub
2/9/2006 Boston, MA Palladium Nightclub
2/10/2006 Philadelphia Electric Factory
2/11/2006 Philadelphia Electric Factory
2/12/2006 Baltimore, MD Sonar
2/13/2006 Washington DC 930 Club
2/14/2006 New York, NY HammersteiN
2/17/2006 Ft. Lauderdale Revolution
2/18/2006 St. Petersberg, FL Jannis Landing
2/19/2006 Orlando, FL Hard Rock Live