A Sneak Peek Into Season Five of '24'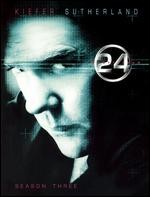 The cast of
24
is growing.
Julian Sands
,
Peter Weller
and
JoBeth Williams
join the series for its fifth season. British-born actor Julian Sands will play billionaire bad guy "Vladamir Bierko" while Peter Weller portrays "Christopher Henderson," the federal agent who recruited Jack Bauer (
Kiefer Sutherland
) to counter terrorist work more than a decade ago. JoBeth Williams is Henderson's wife, Miriam. All three characters will come face-to-face with Bauer as he desperately attempts to prevent the series' most lethal terror threat yet on US soil.
Season five picks up 18 months after the exciting conclusion of season four, as national security is brutally breached. A presumed dead Jack Bauer is actually living a new life with Diane (
Connie Britton
) and her son Derek (Brady Corbet). A shaky President Logan (Gregory Itzin) is running the nation, while composed Bill Buchanan (
James Morrison
) commands CTU alongside key operatives Curtis Manning (Roger Cross), Edgar Stiles (Louis Lombardi) and Chloe O'Brian (
Mary Lynn Rajskub
). Also featured in season five will be Emmy Award-winning actress
Jean Smart
as First Lady Martha Logan. In addition, Tony Almeida (
Carlos Bernard
) and Audrey Raines (
Kim Raver
) return, while Lynn McGill (
Sean Astin
) joins CTU.
24 premieres with a four-hour, two-night event Sunday, Jan. 15, and Monday, Jan. 16. Additionally, the second hour on Monday, Jan. 16, will mark the series' 100th episode.