A Sick Miley Cyrus Covered Up In Fur & Sequins For New Year's Eve Performance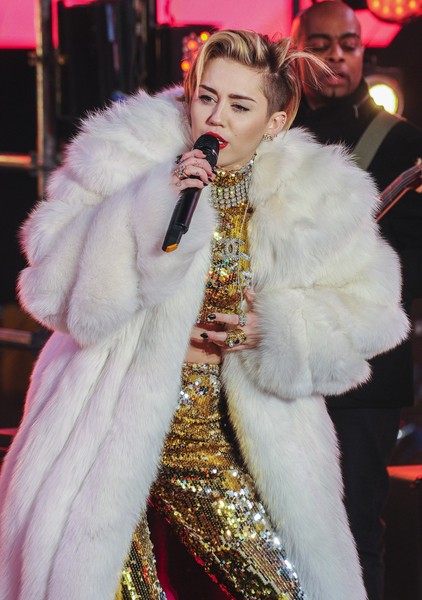 During the New Year's Eve party in New York City on Tuesday night, Miley Cyrus performed in a floor-length white fur coat and gold sequined, two-piece body suit.
The singer sang "Get It Right" and "Wrecking Ball" just before the ball dropped on midnight, but it was too cold for her to show off too much skin in front of the thousands of revelers who piled into Times Square to kick off the new year.
Cyrus was fighting a cold, so she didn't dress as provocatively as she usually does.
She tweeted: "This cough/cold is not a good combo. please keep praying for me. If I can just get thru tonight I can have a nice lil break."
The freezing weather contributed to her covered-up look, and she told Ryan Seacrest, "This is the most clothed I've been in all of 2013... Due to standards and practices and also the cold weather, this is what we came up with."
Other celebs who performed throughout the night included Melissa Etheridge, Billy Joel, Macklemore & Ryan Lewis, Icona Pop and Blondie.