A Shirtless Liam Hemsworth Shows Off His Sexy Torso In New 'Paranoia' Pics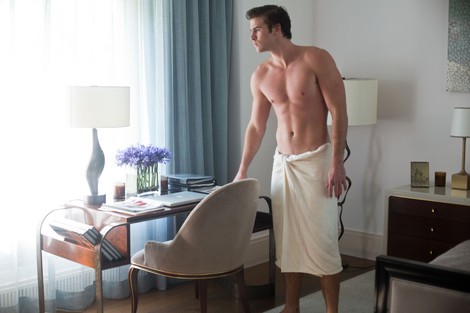 Here's one way to generate interest in a film - release sexy photos of the leading man. Liam Hemsworth stars in the upcoming movie "Paranoia," and Relativity recently unveiled new screenshots of the Australian hunk.
The actor is featured in a towel (and nothing else) in what appears to be a hotel room and by a swimming pool. The 23-year-old looks fit and firm in the photos, which show off his over six-foot-high frame quite well.
The film centers on bright young executive Adam Cassidy (Hemsworth), who is fingered for corporate wrongdoing and ordered to infiltrate a high-tech rival. As Cassidy becomes a rising star at his new job, he seeks to break away from his former company. The film hits theaters Aug. 16.
In addition to acting, Hemsworth is also known for his relationship with pop starlet Miley Cyrus. The couple got engaged last summer and nearly split up earlier this year. But they apparently patched things up and are back together.
Hemsworth also stars in the upcoming "The Hunger Games: Catching Fire."
Check out more shirtless pics of Liam...