A Sexy, Shirtless Ian Ziering Reveals A Lot Of Skin At Chippendales Debut - See Photos!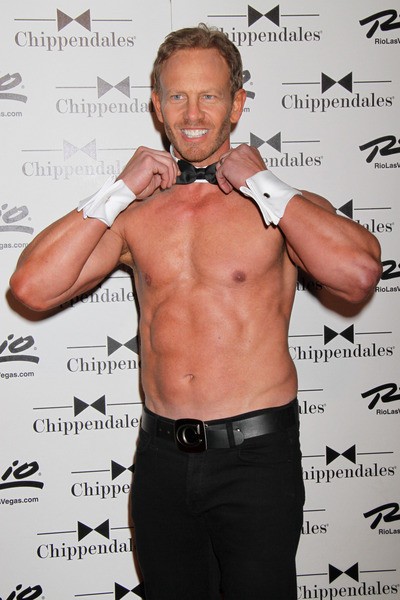 A very buff Ian Ziering made his debut as a Chippendale dancer on Saturday night, stripping off and showing off his sexy abs in Las Vegas. The former "Beverly Hills, 90210" star wore a bow tie and cuffs while posing before the performance at the Rio All Suite Hotel and Casino.
In order to get into shape for the show, the actor followed a strict fitness program. Ziering lost 25 pounds over three months and dropped down to 180 pounds. At 49, he is the oldest celebrity guest host of the act, and he defended his decision to get half-naked in front of a bunch of women.
He explained: "It's a sexy, sensual show, and the girls do go wild. It's not a salacious, scandalous, back-alley production. The theatre is $10 million.
"More people than not have seen me on television in swim shorts, so I don't have any problem stripping down. We had shirtlessness on 90210, so I take all this with a grain of salt. With this new look, I have nothing to be ashamed of, and I can now stand quite tall with the other guys in the cast. They are great physical specimens."
His wife also seems to have no problem with him showing off his skin to female fans. He told the Las Vegas Sun, "I'm like 'Magic Ian' now," referencing the film "Magic Mike."
Check out more shirtless photos of Ian...