A Sexy Jennifer Lawrence, Pink Haired Helen Mirren & More Red Carpet Pics From The BAFTAs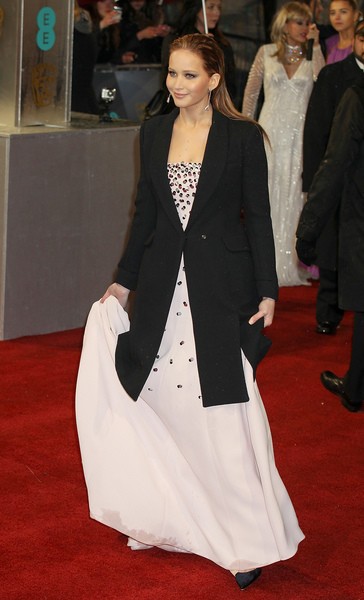 The British Academy Film Awards (BAFTAs) took place on Saturday night, and plenty of American celebrities tiptoed through the snowflakes to attend the prestigious event at the Royal Opera House in London.
Jennifer Lawrence ("Silver Linings Playbook") slicked her hair back and wore a strapless Dior Haute Couture gown with a black jacket to keep warm.
Anne Hathaway made headlines for her speech more than her black and silver studded gown. She accepted the award for Best Supporting Actress and was mocked on social media for thanking "Les Miserables" author Victor Hugo and for going on too long.
British icon Helen Mirren showed off her newly pink do and told the Daily Mail about her new look: "I just thought it would be fun to dye my hair pink. I mean, honestly, I was watching America's Next Top Model and the season where there were the British girls. ... The British girl who won, she had pink hair, and I thought: 'That looks really pretty.' So I'm copying her, basically."
Check out more photos from the event...