A Salute to 'A Charlie Brown Christmas'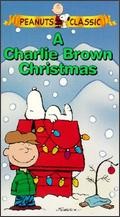 Christmastime is here! You can always tell when the Sunday paper is twice as thick with ads and the "lite" radio station starts its Christmas music programming right after Halloween. People flood the stores at obscene times like 5:00 a.m., and high-end stores are open 24 hours. Good grief!
However, when we hear piano music and children's voices singing: "Christmastime is here, happiness and cheer, fun for all, that children call their favorite time of year," that signals the beginning of the most beloved and enduring shows ever,
A Charlie Brown Christmas
. "A Charlie Brown Christmas" was the very first Peanuts television special, and it premiered on December 9th, 1965.
It's hard to believe that such a wonderful, sincere show like "A Charlie Brown Christmas" would have problems actually getting on the air.
-The network (CBS) thought it moved much too slowly, and the execs also weren't too thrilled about Linus reciting from the Bible, but Peanuts creator Charles Schultz pushed to keep this in. He wanted to make sure his show relayed the true meaning of Christmas.
-An all-child cast was used instead of using adult women, as commonly used to voice children's parts. Some of the kids could not read and had to be coached line-by-line.
-There was no laugh track. Many children's cartoons of the day had one. Again, Schultz objected, saying he wanted viewers to enjoy the show without being prompted.
-The Vince Guaraldi Trio's soundtrack wasn't met with favor. The thinking was that jazz wouldn't fly in a children's show. The music is part of what we now associate with Christmas music, especially Linus and Lucy, which became the theme of all Peanuts specials.
Even with all of the network trepidation, 50% of the country tuned in and the show went on to win a Peabody award and an Emmy award for Outstanding Children's Program in 1966!
Here are just a few things we love and make note of about the show:
Charlie Brown combats commercialism.
Even as a kid, he recognized that even with all the parties, gifts, glitter and glitz, something was still missing regarding the Christmas holiday.
The real meaning of Christmas.
Linus sincerely relayed the Bible story from Luke chapter 2. He helped Charlie Brown realize that it wasn't about all the commercialism that so dismayed him.
Snoopy - What a dog!
He skates. He does impersonations and home makeovers. Snoopy plays the guitar, and you gotta love his Trepak dance on top of Schroeder's piano. However, Snoopy did deserve to be drop kicked for laughing at Charlie Brown along with the rest of the kids.
Sally's letter to Santa.
She's very resourceful, telling Santa he can save time by just sending money-especially tens and twenties.
Lucy Lucy, although mouthy, does have a heart.
She pushed for Charlie Brown to get involved in the Christmas play, and tried to analyze his problems at her psychiatry kiosk. Yet, Lucy's crush Schroeder wasn't too impressed with the Christmas Queen's hitting on him.
The little Christmas tree.
The poor pitiful tree became the standard upon which all things scrawny and scraggly are measured. "Don't get that one! It looks like a Charlie Brown tree!" It showed that anything could flourish when given a little love.
Christmas caroling.
It has one of the most heartfelt renditions of "Hark the Herald Angels Sing" ever sung.
Story by
Donna Terrell
Starpulse contributing writer