A 'Real Housewives' Halloween
Was "The Real Housewives of Beverly Hills" the scariest Halloween show of them all? Despite documenting an event that took place months ago, and dialing down the intra-group witchery that dominated the last few outings of this inherently spooky season, the hour shaped up to be as much of a fright-fest as the rest of the October 31st-themed programming.
The scary sights commenced with a tried and true classic – the mummy. In a post-surgery haze, Kyle Richards' mother-in-law, woke up and from under the gauze of her new face, croaked out the words, "Do you want to dance with me?" Horrified, Kyle ran behind a curtain to cry, as her two-year-old stared at her mummified grandmother, trying to remember how that 'Little Red Riding Hood' story ended and wondering if she could unsee everything around her.
After the campy scares of a post-op plastic surgery patient, Bravo goes a bit darker and we follow Kyle and the mummy's hot son, Mauricio to dinner at the home of Taylor and Russell Armstrong. As we know, one member of this awkward foursome is no longer alive, and trotting Russell out for the first time this season, to threaten legal action in his vaguely sinister and very matter-of-fact way, was enormously uncomfortable.
By the time we got to Mohammed's Haunted House, we're watching this show with the same nervous trepidation that accompanies a viewing of "American Horror Story." We know there's going to be weird, freaky, creepy stuff around every corner but we can't turn away. So we go along for the ride and in spite of our best judgment, hang around to watch an enormously bizarre engagement party that this Moroccan prince has thrown in Lisa Vanderpump's daughter, Pandora's honor.
Sparing no expenses and possibly sacrificing a few extra virgins for the occasion, this circus featured live snakes, secret sex rooms that should only exist for fictitious murder mystery dinners,  drunk mermaids who sloppily slide down banisters, contortionists, and a live camel who may or may not have swapped souls with one Camille Grammer. By the time Kyle started doing her twists and splits, it was clear that Mohammed's home carried some of the "Death Becomes Her" magic that damned Meryl Streep and Goldie Hawn to an eternity of false youth and catfights. How frighteningly appropriate that the women seemed so very at ease in this setting? For this glam cast of Bravo-lebrities, it was a happy Halloween indeed.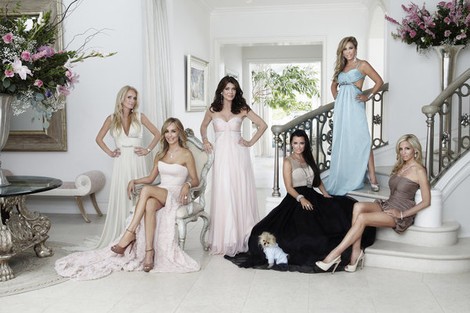 Next week: Re-invigorated with power from Mohammed's creepy palace, the witches abandon subtlety completely and hold a séance. Fire burn and cauldron bubble. This should be good.
So, RHBH fans, what did you think was the scariest sight on Halloween night? Any horrors we missed? Let us know!