A Quick Look at Four of the Best Racing Games from 2012
I tend to skip racing games—I'll be the first to admit. Partly because they rarely have a story and engaging storylines are often what I play games for. But also, let's just admit it: I'm terrible at racing games.
However, there were a few notable racing games with fairly high reviews last year, so since it's the early part of the year where there aren't a ton of new releases, I took the time to play through of four of last year's games this past weekend: Forza Horizon, NASCAR The Game: Inside Line, Need for Speed: Most Wanted and Sonic & All-Stars Racing Transformed.
Forza Horizon
Forza Horizon seems like a game custom made for me—I can slam into the wall all I want and my car looks like it doesn't have a scratch on it.
Forza Horizon is billed as an action racer, where competition meets culture. The developers focused on the music in the game, just as much as the cars. Why? The entire game takes place at something called the Horizon Festival in a fictionalized version of Colorado with hundreds of miles of drivable roads.
Just as every car handles differently – and they do as some definitely let me get away with rarely taking my finger off the accelerator – the radio stations have their own flavor too. (Though I tended to stay with the rock station.)
When you turn on the game you can jump into single player or multiplayer right away. I chose single player and I was put into a race almost instantly. The game put me in the "story" mode (I use the term loosely since your character never gets a name or speak,s and other characters you meet in the game are fairly forgettable). It guided me from heats (races) to showcases (opportunity to race against something like a plane and show off to win a car) to auto shows (where you buy new cars) before it let me off on its own.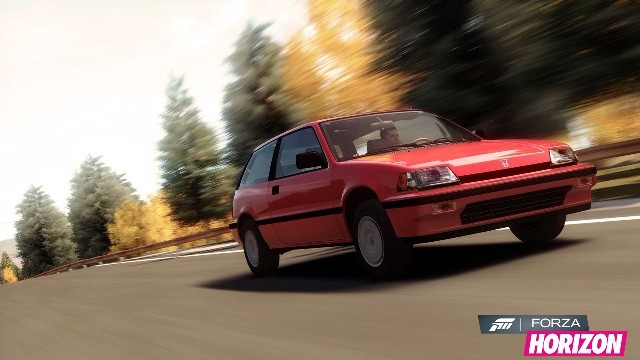 The name of the game is to race, earn points and then get colored wrist bands… that unlock more races. (You of course want to become the champion by the end of the game.)
The GPS is pretty helpful in the game—you get both green arrows on the road, as well as a speaking voice telling you to turn right or left in 400 yards. In Need for Speed, I loved that you could instantly jump from race to race, but in Forza Horizon you had to drive to each and every one. It can get boring and repetitive, but even I have to admit that driving three miles into the Horizon Festival, seeing the fireworks and lights against the mountain background is pretty nice.
The best feature of the game for terrible racing gamers like myself is the Rewind feature. Press Y and you can rewind in segments (each lasting a few seconds) until you've erased a mistake you made that led to you losing pace. It's a cheat, sure—but it's better than restarting the entire race.
Two additional features for Forza Horizon include SmartGlass and Kinect functionality. I didn't get a chance to test the Kinect functionality, but SmartGlass worked instantly and allows you to have a map on your tablet. Since I tend to play my games from my bed, it didn't appear to be of use to me, but if you play in the living room, it might be helpful to place your tablet on your coffee table so you can glance down at the map as needed. (Make sure you turn off auto-sleep, however, as my iPad kept shutting off.)
Forza Horizon plans to continue to release DLC over the next few months—the latest was the Rally Expansion pack in December. Five new iconic cars were included in the pack, and each came with "a rally-tuned suspension, rally tires, a rally drivetrain and a special rally-inspired body part upgrades."
This was probably my favorite of the three pure racing games, especially because of the quality of the music and the Rewind feature. If you're a racing game rookie like me, Forza Horizon is probably your best bet.
NASCAR The Game: Inside Line
If you're a real-life NASCAR fan, you're going to find a wealth of content and realism in this game. More than 40 of NASCAR's drivers and teams are featured in the game including Dale Earnhardt Jr., Jeff Gordon and Danica Patrick. There is also 23 officially licensed tracks ranging from Dayton to Sonoma.
The game quickly puts you into Career Mode when you fire it up for the first time. I played with my real name under the team name, Fulcrum. (Chuck fans anyone?) While I could have painted my car or played under-the-hood, I was eager to get out onto the track as quickly as possible.
On the loading screens, you're treated to NASCAR trivia you can play, interesting facts about the sport and real life advertisements. During the two lap practice, you're taught about the proximity detector that runs on the bottom of the screen, as well as how to monitor your fuel, your tires and engine heat. I ran into the wall a few times – not surprising if you've seen me play a racing game before – and even missed the pit lane the first time.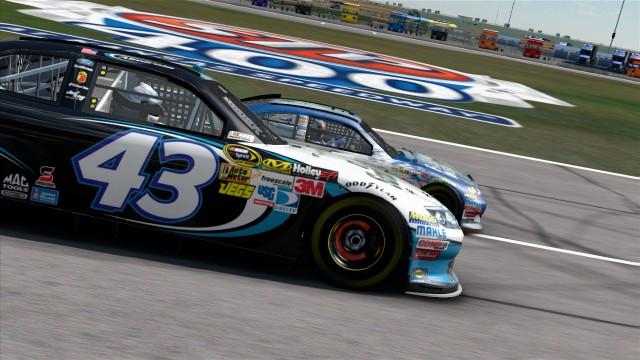 Somehow I still racked up my first sponsor and was off to hit the races. The game allows you to skip practice and qualifying rounds – which I opted for – and instead have the computer simulate it for you. I wanted to get to Dayton 500 as quickly as possible.
I didn't do all 200 laps. Again, the game lets you choose the percentage of how many you want to play—I opted for 10. Even that many was a bit boring for me, but NASCAR isn't thrilling to me in real life either.
There's a ton of DLC planned for 2013, timed to real-life races (except Bristol, Kansas and Dover). There are two primary forms of DLC. There's "Car Packs" that will update all vehicles and manufacturers to look exactly like their real-life 2013 counterparts. And the "Inside Line DLC" packs will take specific real life race situations throughout the 2013 season and recreate them for players to try.
My short time with Inside Line convinced me the game isn't for me; but NASCAR fans would probably be absolutely thrilled by it. There's in-race commentary from Fox Broadcasting's Darrell Waltrip and Mike Joy, and you'll get Ty Norris and Ray Everham speaking into your earpiece. The developers clearly have a love for the sport and it shows.
Need for Speed Most Wanted
More than anything else, the developers behind Need for Speed Most Wanted want you to have fun. It's the most open world of all the racing games in this round-up. Pretty much every car available in Fairhaven in the game is playable from the start—if you can find their Jack Spot (a car with a badge above it). The gameplay systems build into the game are also sophisticated and yet approachable.
The object of the game is to beat the ten best drivers—known as the Most Wanted. You get the opportunity to challenge them as you earn speed points. Earn those points by beating races, smashing through billboards, blasting past speed cameras or escaping the cops.
Races are unlocked by the cars you find all over the city. Select the one you want through EasyDrive, which is a menu system at the top left of the screen. You can create a waypoint to follow there (unfortunately your GPS is only on the map on the left side of the screen; though during races, there are checkpoint signs that hover in the sky so you can usually see them over buildings) or, if you chose a race through Autolog Recommends, you can go there instantly.
Autolog also tracks your play and compares it against your online friends—so while you might have won a race, you might have finished slower than your Xbox Live friend.
Unlike Forza Horizon, you can crash so hard that you need to reset. (And there's no Rewind feature). But with that penalty, comes a kind of excitement you won't find during any of the other games on the list. Need for Speed is thrilling, fast and never lets up. I was horrendous at it, but I loved playing it. Plus, EasyDrive is so simple to master, I never felt lost on what to do next, the way I did sometimes in Forza Horizon.
I played Need for Speed the least out of all the racing games on this list, but I enjoyed the act of playing it the most, even if I thought Forza Horizon was a better game for my play style. If you like to do a lot of damage in racing games, or you have a lot of online friends you want to challenge, this is the game for you.
Sonic & All-Stars Racing Transformed
And here's the one game that's the least realistic of the bunch—but also might be the most fun for a non-racing fan.
If you've played a Mario Kart game before, you'll quickly master the controls of Sonic & All-Stars Racing Transformed where you can play as Sonic, Wreck-it Ralph or even Danica Patrick—who I interviewed about the game last year.
Levels take place over land, air and water. Luckily, your kart transforms accordingly since the tracks are dynamic and will change throughout the course of the race. All of them are inspired by SEGA franchises and games such as Super Monkey Ball, After Burner and Panzer Dragoon.
Once you start the game, you quickly can choose Career, Matchmaking (online) or create Events to play against your friends. In Career mode, you'll need stars to unlock additional races. Depending on how hard your difficulty chosen was will determine how many stars you achieve after each race—and whether or not you came in third versus first.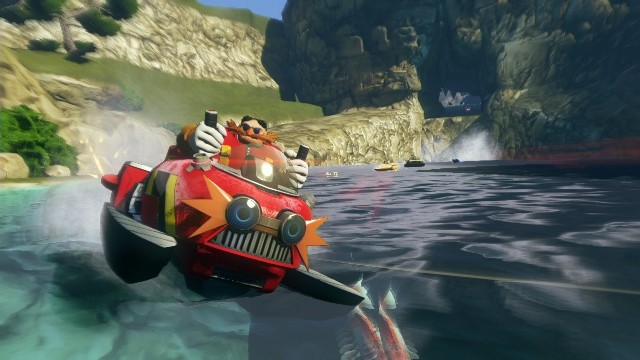 During the race, you can pick up one item at a time to dispatch offensively or defensively. You won't know what that item is until after you pick it up. It could be a blowfish, which leaves behind a bomb, or a drone, which goes after people in front of you. Or it could be a glove to defend against incoming attacks at you.
You'll start the game with eleven of the characters unlocked. You can level them up by playing the game and you'll unlock more as you progress through the game and earn XP.
The difficulty can spike easily on hard or even medium, but Racing Transformed was oddly addicting, even in single player mode. If only I could have brought that Blowfish item over to Inside Line…
If you have kids, or don't want that much of a challenge, this is the kart racing game for you.
* Disclosure: All four of these games were provided by the individual publishers for the purposes of a review. *