A Naked Laura Vandervoot Calls Attention To SeaWorld 'Abuse' In PETA Ad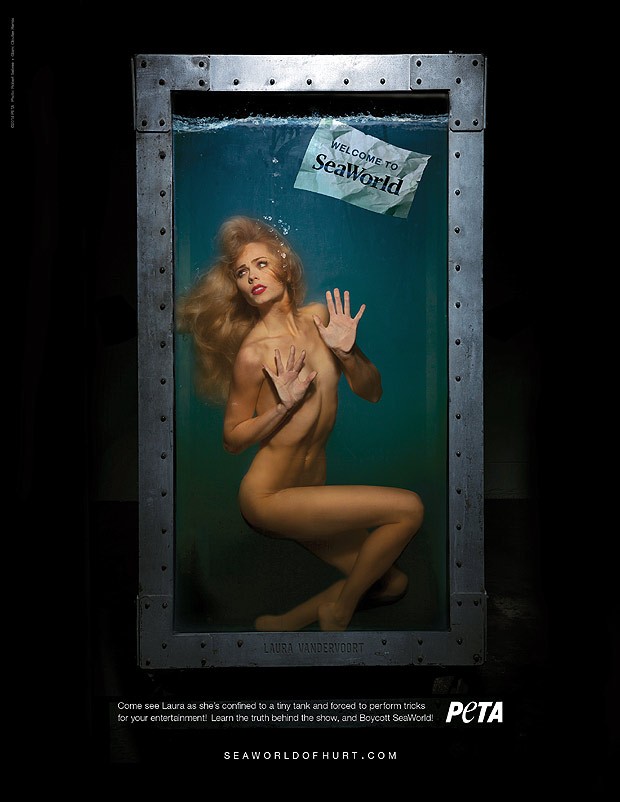 Actress Laura Vandervoot ("Bitten," "V" and "Smallville") has posed naked in a provocative new ad for PETA in order to draw attention to the plight of captive orcas at SeaWorld.
The actress is depicted floating in a tiny tank with very little space to move around and a "Welcome to SeaWorld" sign propped above her head.
The print ad proclaims: "Come see Laura as she's confined to a tiny tank and forced to perform tricks for your entertainment! Learn the truth behind the show and Boycott SeaWorld!"
Vandervoort, 29, told PETA: "We wanted to express the confinement and the torture and the agony and the anxiety that the orcas go through in a tank, for them, the size of a tub. I had seen the movie Blackfish and not only did it make me cry … but it impacted me in a way that I wanted to do something, and I wanted to help."
According to PETA, wild orcas travel up to 100 miles per day. Captive ones become stressed and agitated, resulting in broken teeth and chronic pain as they try to escape from the pool gates.
Vandervoort also posed nude and covered in body paint for a PETA 'Whose Skin are You In' campaign in 2011.
The actress currently plays a werewolf in the Syfy series "Bitten" and is engaged to her British boyfriend Oliver Trevena. She has a second-degree black belt in Shotokan Karate.