A Naked Lady Gaga Wanders Around A Forest, Hugs A Crystal In New Video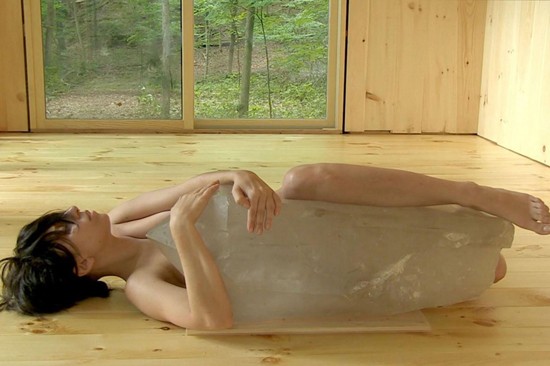 Lady Gaga is naked again. The pop star has been stripping off quite a bit recently to promote her upcoming album ARTPOP, and she's done it again in an unusual video.
In her latest stunt, she bares all for Serbian artist Marina Abramovic's fundraising campaign, which hopes to raise $600,000 to spread the artist's "method," a workout regime designed to heighten awareness of physical and mental experiences.
In the video, a naked Gaga walks blindfolded through a field, performing the "Abramovic Method."  She also bends over naked in a forest, stands in a lake with yellow spikes over her eyes, and hugs a huge crystal in an empty room.
Last month, the pop star tweeted a picture of herself reclining nude on a chair made up of electronic circuit boards to promote her upcoming single, which drops Aug. 19.
Gaga also bares all in an upcoming issue of V magazine. Photographers released an image from the shoot in which the singer poses provocatively on a stool, covering up her lady parts with just her arms and hands.
ARTPOP drops Nov. 11. Gaga will be performing her new single during the MTV Video Music Awards on Aug. 25.