A Look At The Tribeca Film Fest And How You Can Participate Online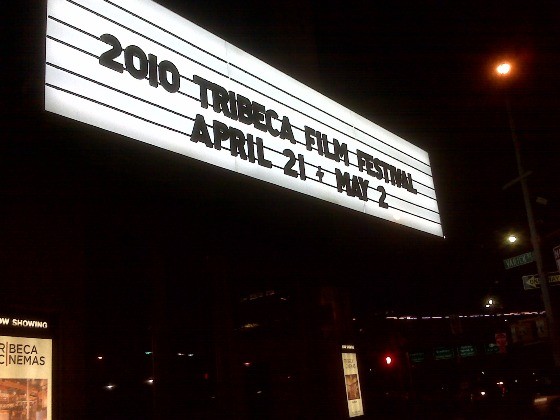 Back in 2008, I had recently moved to New York wanting to fulfill a lifelong dream of becoming a writer. I'd just come from California where I fulfilled a different dream of becoming a musician and thought, if I could be writer anywhere, it might as well be here. I got a gig writing columns for Starpulse and after a couple of months, my editor approached me about covering the Tribeca Film Festival. The craziest part… I was a music writer. I'd sort of decided early on that I would write these long-winded musical thesises, partly to exercise my brain of all of this musical data that I had stored up and would be a shame to part the earth without, but also because it'd always been my dream that someday I'd publish a complete anthology on the subject. Critics always work off the same template: start with some piece of irony (read: everything I've said up to this point), and then give some opening and lasting impression of the work and throw in some facts about the project itself in the body. The difference between being a movie critic and an album critic have some slight subtle differences, like, with albums a critic will always talk about the artist or band's previous work as some measuring stick for the newest project. While movie critics—the high brow ones at least—go into their Tarantino-like cinema vaults for brains to compare the latest movie to some other super obscure flick from thirty years ago that nobody under twenty-five has ever heard of before. And somewhere along the line I turned into parts of both but luckily, neither at the same time.
It's important to mention this because my first year covering Tribeca felt like a really awesome summer camp that privileged kids get to go to. I got to see a bunch of films that most of you will never, ever see, got to write about said films with the very conscious understanding that because you may never see those films, I could be bolder, more honest in my writing, and I got to interview some kick-ass filmmakers, producers and actors all at the same time. I came out of my virgin Tribeca experience with a new snobbiness as a writer, the kind of snobbiness that makes a writer fearless and gets him published.
View Climate of Change Trailer
2010 is a completely different landscape. Everybody knows about the Tribeca Film Festival now. People seem to understand and respect the major difference between it and say, Sundance (the latter includes many independent films that have major Hollywood involvement, like say, Up in the Air; Tribeca, while some major Hollywood are lurking, is straight-up indie through and through, with a great emphasis on foreign films and documentaries). I've seen a couple of films during the pre-screening which I'm not allowed to discuss [yet] that will be Oscar contenders in ten months, the sort of films your friends will make you look like an idiot because you haven't seen and the film has been playing at your little indie house for the past three weeks. For you, this will probably mean September or October of this year. But I feel as though I understand now what it truly means to have an Independent film festival, to get to witness and experience the sort of true filmmaking that can't be made on the lot of Paramount Studios in Los Angeles. And guess what? The festival starts today.
For the next two weeks, scattered locations throughout Lower Manhattan will be screening hundreds of some of the finest films that Hollywood—at least until now—didn't get to take part in. And it's nothing but good times. I could spend a weekend watching Kick-Ass and the American version of Death at a Funeral or whatever else you got in mind. Or I can say, hey, Metropia, that sounds like the title of a film I'd go see! And so I probably will. And for the first time ever, so can you! At http://www.tribecafilm.com you can sign up to watch movies on demand. And maybe I'll just find a whole new way of telling you about the films you should—and really should—see. Maybe this is the year we can all be snobs together.