A Look At the Best Cheesy/Sappy Christmas Movies

Starting in October, a very special period begins for the entertainment industry, and I'm not talking about awards season: Christmas movies bust out of their shiny tinsel packaging and take over the airwaves. While channels like CBS and ABC run classics (
Rudolph The Red-Nosed Reindeer
,
A Charlie Brown Christmas
) and ABC Family contributes "25 Days of Christmas" with everything from childhood favorites (
Miracle on 34th Street
,
A Christmas Story
) to more recent, low budget productions (
A Carol Christmas
,
Christmas Caper
), in my household, I prefer to indulge in a select, specific modern few that are one part cheesy, one part corny, and dusted with an all-around healthy dose of saccharine.
In
Borrowed Hearts: A Holiday Romance
, a 1997 made-for-television holiday romance movie, Eric McCormack is a wealthy businessman who has his biggest client coming to spend the holidays with him. The problem is, his biggest client is a huge family man (the film ignores the fact that he would be away from his own family at the most important time of year), and McCormack is a self-proclaimed bachelor. Roma Downey is one of his factory workers who is a single mom with a precocious daughter who wants nothing more than her parents to get back together for Christmas. McCormack ends up needing to rent a family for the holidays, and Downey needs the money, so in a perfect twist of fate, it's, well, perfect. McCormack learns to love, and Downey learns to trust a man again. Did I mention that important client is Hector Elizondo, who also just happens to be an angel? It wouldn't be a stereotypical sappy Christmas movie without one!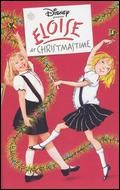 2003 brought every little girl's favorite friend who lives at the Plaza, Eloise, to the small screen in a made-for-TV holiday film,
Eloise at Christmastime
.
Sofia Vassilieva
brings Eloise to life, skipping and hopping and causing trouble all around the hotel for the manager, Jeffrey Tambor, and her nanny, Julie Andrews. Deciding she wants to be a spy that particular week, she also begins to keep an eye on the fiance of the Plaza's manager's daughter, who she is convinced is not simply wrong for the daughter but bad news altogether. Instead, she schemes to bring her back to who Eloise perceives to be her true love, one of the waiters in the downstairs restaurant. It is a film that gives a little girl an immense amount of power and clout and is perfect for any eight or nine or ten year old who needs tips on how to manipulate the situations around them.
The Perfect Holiday
is one of the more recent (2007) soon-to-be cheesy holiday classics. Starring
Gabrielle Union
,
Charlie Murphy
, and
Morris Chestnut
(with appearances by
Queen Latifah
, Terrence Howard, and
Katt Williams
), The Perfect Holiday has it all: adorably precocious kids, the magic of Santa, catchy original holiday tunes, and enough miscommunication to warrant the typical relationship upset. (http://www.youtube.com/watch?v=1KzpcZkNtNM) Union is a single mom who just wants to hear a nice, genuine compliment from a man for Christmas; her daughter asks the mall Santa (Chestnut) for just that, and he decides to go ahead and follow through, never assuming he'd start to fall for her, the ex of a big time music producer (Murphy) who he hopes will give him his big break. While some of the antics Latifah and Howard, as the angelic figures in this tale, get up to are quite ridiculous, it is young actor Malik Hammond as Union and Murphy's oldest son who keeps the film real and grounded.
The Muppet Family Christmas
originally aired on PBS in 1987 and finally came to home video almost a decade later in 1995. Featuring all of Jim Henson's creations-- from Kermit and Fozzie to Big Bird and Bert and Ernie, and of course, Fraggle Rock, The Muppet Family Christmas was a puppet musical about friends and strangers alike coming together for the holidays. Fozzie and his friends plan to surprise Fozzie's mother with their arrival on her doorstep for the holidays, but unfortunately she had been playing to head to Florida and enjoy the sun while renting out her house to a nice gentle(hu)man and his dog. When a snowstorm comes, trapping everyone inside-- well, everyone but Miss Piggy, who is still en route-- they make the best of a rough situation, laughing, singing, and cooking along the way. Unfortunately the home video release was significantly shorter than the original airing, cutting out some cute moments where the muppets watched slides of themselves as Muppet Babies, as well as a song with Fozzie and a snowman. However, each and every important lesson (from "giving is better than receiving" to pardoning a turkey to opening your heart-- and your home-- at the holidays) is intact, as well as each and every "icy patch," still warming the heart and provoking giggles even after all of these years.
Muppet Family Christmas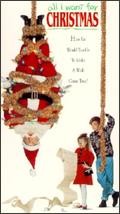 In 1991, the first Christmas movie entitled
All I Want For Christmas
was released starring a pre-pubescent
Thora Birch
and
Ethan Embry
as a brother-sister duo who want nothing more for Christmas than for their parents to get back together (which appears to be a theme in the nineties!). Along with the help of a pet mouse and a department store Santa (
Leslie Nielsen
), they set about making that wish come true, and because it is a film meant to lift the spirits, especially during such a magical, wonderful time of year, of course things work out for the family just in the nick of time. It may not be the most realistic depiction, but then, tis the season to feel good, not necessarily realistic!
In October 2004, critics panned the
Ben Affleck
/
Christina Applegate
/
James Gandolfini
holiday treat
Surviving Christmas
for being too over-the-top in everything from basic idea (eccentric millionaire pays a quarter of a million dollars to rent a family for the holiday season) to the performances (personally, though, I found Affleck's wide-eyed excitement endearing, as if he was seeing Christmas through a child's eyes once again). This has become, hands down, one of my new favorite Christmas movies, though, because it is just cynical enough for the modern audiences who can laugh at some of the outrageous behavior that occurs around this time (the opening credits sequences shows a guy struggling to wrap presents and getting tangled in the ribbon and a woman making sad gingerbread men) but also features some very sweet character moments between Affleck and Applegate when he finally opens up about his true loneliness.
Christmas movies are notorious for being just a little bit out there, and it is just understood that there has to be some suspension of disbelief around those times, so it is easy to ignore the fact that it is most likely just the lights on the tree or the snow in the air that is making these men and women giddy enough to believe they're really falling in love with each other. Or maybe it's the eggnog; all of these films are phenomenal with a tall glass of eggnog!
Story by
Danielle Turchiano
Starpulse contributing writer