A Look At Beyonce Knowles' Latest Film 'Obsessed' And Her Film Career

Obsessive
Beyonce
fans can get a fix of their favorite diva this weekend with her new movie, '
Obsessed
.' After her powerful, but little seen performance as legendary blues musician in last year's 'Cadillac Records' Miss B is putting down the microphone for her latest film, playing a wife forced to defend herself and her husband against a well…obsessed…co-worker. So unless she bursts into sung warnings of "The Boy is Mine" or "Your Cheatin' Heart," '
Obsessed
' will join her non-musical roles in '
The Pink Panther
' and 'Austin Powers in
Goldmember
' (and even those have their musical moments and soundtrack contributions.)
Sure artists should stretch themselves by tackling a vast array of roles, and one could easily criticize Beyonce for simply singing her way through all her films ('
The Fighting Temptations
,' '
Dreamgirls
,') but for someone as talented as a singer/dancer as Beyonce, is that really such a bad thing? The only real enjoyable part of 'Temptations' is her rendition of fever.
Jennifer Hudson
may have taken home the Oscar for 'Dreamgirls,' but let's not forget Beyonce's transformation from naïve, back-up singer to powerhouse front-woman. We say perform Beyonce, perform.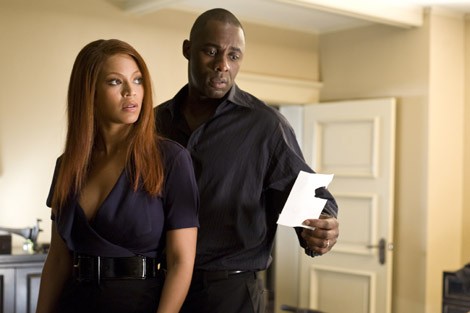 Obsessed ~ © Columbia Tristar Marketing Group, Inc. All rights reserved.
The easiest way to approach Beyonce's film career is to think of her latest 2 disc album "
I Am…Sasha Fierce
." Soul searching Beyonce (disc 1) functions as her non-singing roles. It's pleasant and enjoyable, but really you just want to skip to her disc 2 alter ego, fictional pop star Sasha Fierce. Tearing into "At Last" only to be rolling on the floor addled by drug addiction later in 'Cadillac Records'…that's Sasha Fierce. Gliding messiah like down an aisle at her husband's tribute concert, channeling
Diana Ross
, and eventually leaving his sorry ass…Her fierceness again. For her next film project we suggest B teams up with her Oscar performance partner
Hugh Jackman
and the segment's director, Baz Luhrman for an original musical. She'll bring the house down.
Click the pics for Obsessed's gallery:
Story by
Michael Mellini
Starpulse contributing writer