A Look At All The Actors Who Have Played 007

This Friday, Sir Ian Fleming's James Bond is back in theaters.
Daniel Craig
has brought a brute anger to the role that has not quite been seen before. In the very least, as we learned in the 2006 version of
Casino Royale
, he certainly does not care any longer how his martini is served. Craig is under contract for one more Bond film after
Quantum of Solace
, but what if he does not return after that twenty-third film? What will his post Bond career look like? Let's take a look at
all
the actors who have played 007 -- rouge film, or not -- and what their post Bond careers looked like.
Barry Nelson
-
Casino Royale
(1954)
That's right, Sean Connery was not the first actor to portray James Bond. EON later bought the rights to all of Ian Fleming's novels, except for Casino Royale which, until 2006, created some rouge
Royale
films. Nelson, an American no less, played Bond in this adaptation airing live as an hour long special on CBS. A television series was rumored but never materialized. Nelson went on to have a successful stage career but is probably best remembered for playing the hotel manager in
The Shining
.
VERY ORIGINAL CASINO ROYALE

Sean Connery
-
Dr. No
,
From Russia With Love
,
Goldfinger
,
Thunderball
,
You Only Live Twice
,
Diamonds Are Forever
,
Never Say Never Again
(1962-1967, 1971, 1983)
Sean Connery is, arguably, the quintessential James Bond. He was the first (with all apologies to the late Barry Nelson) and, many will say, the best. He had the intensity of future Bonds such as
Timothy Dalton
and
Daniel Craig
, but could find humor in his situation as well as
Roger Moore
ever could.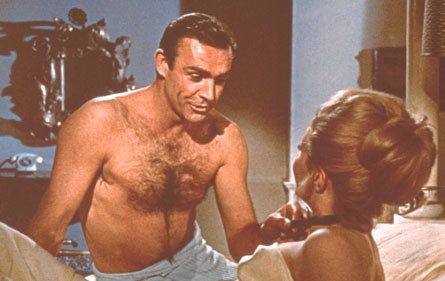 In 1967 Connery left the role, only to return in 1971 after the producers offered him a hefty fee to return for
Diamonds are Forever
. Unfortunately, "hefty" is also is a good adjective to describe the physical condition Connery was in when he showed up on the set. He returned once more to the role of James Bond in the renegade
Never Say Never Again
, which, due to a contract loophole, was just an updated version of
Thunderball
not produced by EON and is not considered part of the series.
After Connery left the role of James Bond he was never heard from again. (Unless, of course, you count the Oscar he won for
The Untouchables
or count the leading roles he had in
The Presidio
,
The Hunt for Red October
,
Indiana Jones and the Last Crusade
or
The Rock
.)

David Niven
-
Casino Royale
(1967)
Another result of EON not getting the rights to
Casino Royale
, was this 1967 satire starring the legendary David Niven as the ageing spy. Obviously not part of the official James Bond series, this version of
Royale
does mark the only time the character of James Bond dies during the coarse of the film.
Niven, whose great roles were mostly behind him -- but still managed to appear in twenty-two more films, including two cameos in the
Pink Panther
films -- is best remembered, post
Casino Royale
, for his Academy Awards appearance in 1974 when, appearing as a presenter, a man streaked the stage behind him. Unfazed, Niven quipped,"Isn't it fascinating to think, that probably the only laugh that man will ever get in his life, is by stripping off and showing his shortcomings."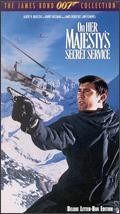 George Lazenby
-
On Her Majesty's Secret Service
(1969)
Sean Connery had played James Bond five times and had tired of the role. Future Bond's Timothy Dalton and Roger Moore both declined for separate reasons, leaving the role open for Lazenby. A point could be made that Lazenby paved the road for Roger Moore by absorbing all of the scorn associated with replacing a beloved actor. Critics will defend
On Her Majesty's Secret Service
as the most faithful representation of an Ian Fleming novel, but audience reaction was so divided that after Lazenby, unbelievably, left the role, producers jumped at the chance to get Connery back for the next film,
Diamonds Are Forever,
at the price of an astronomical salary, for the time, of $2 million.
As noted, Lazenby left the role on his own free will; James Bond, other than a few bit parts, remains his only role of note.
Roger Moore
-
Live And Let Die
,
The Man With The Golden Gun
,
The Spy Who Loved Me
,
Moonraker
,
For Your Eyes Only
,
Octopussy
,
A View to a Kill
(1973-1985)
If you're a child of the 1980's, this is most likely, for better or worse, your 007. Moore was serviceable as the British super spy; starring in a record seven
consecutive
James Bond films. From the very good --
The Spy Who Loved Me
; to the absolute absurd --
Moonraker
.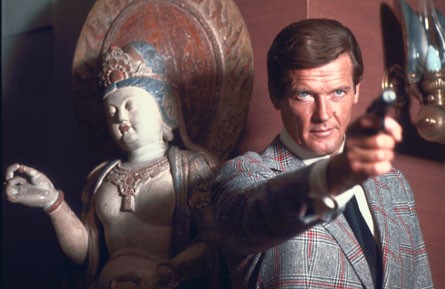 Moore let his license to kill expire after 1985's
A View to a Kill
, when he was pushing 60(!) -- a fact not lost upon critical viewers (at least we got a good
Duran Duran
song out of it). Post Bond, Moore had made occasional appearances in film, including a role on
Alias
and what may be the only redeemable part of the
Cuba Gooding Jr.
vehicle,
Boat Trip
. More importantly, Roger Moore has been heavily involved in charity work; most notably UNICEF, in which he became a goodwill ambassador in 1991.

Timothy Dalton
-
The Living Daylights
,
Licence To Kill
(1987-1989)
The famous story goes that
Pierce Brosnan
could not get out of his contract with
Remington Steele
, so the part of Bond was given to Dalton.
Technically
this is true, but, Dalton was offered the part
before
Brosnan and he turned it down at first because of a prior comitment. Remember, Dalton was offered the part way back in 1969 so the producers were always trying to get him on board.
Daulton made one really good Bond movie,
The Living Daylights
, and one pretty bad one,
License to Kill
. Regardless, just like the Bonds before him, it was
his
choice to leave the role after a few delays on what eventually became
GoldenEye
. After leaving, Dalton has had a succesful stage career along with periodic film roles including
The Rocketeer
,
Hot Fuzz
and, well, unfortunately,
The Beautician and the Beast
.

Pierce Brosnan
-
GoldenEye
,
Tomorrow Never Dies
,
The World Is Not Enough
,
Die Another Day
(1995-2002)
Officially, the last "former" James Bond. Brosnan in an interesting case because he
may
be the only Bond to not leave on his own accord. Somewhere, in the course of negotiations for a fifth film, talks broke down and Brosnan walked away from James Bond. Perhaps a failed negotiation strategy, it's not entirely known; what is known, is that the four Bond movies Brosnan starred in are, by far, the highest grossing Bond movies in the history of the franchise -- only eclipsed by the 2006 version of
Casino Royale
.
Brosnan continues to star in critical favorites such as
The Matador
and box-office hits like
Mamma Mia!
in which he absolutely butchered
ABBA's
S.O.S.
; that is, butchered it all the way to the bank!
So,
Daniel Craig
, it looks as though your future, if history repeats, includes: An Oscar, a naked man, some stage work and, finally, the movie adaptation of
Cats
.
Story by
Mike Ryan
Starpulse contributing writer