'A Little Help' Cast Interviews With Rob Benedict, Daniel Yelsky & Michael J. Weithorn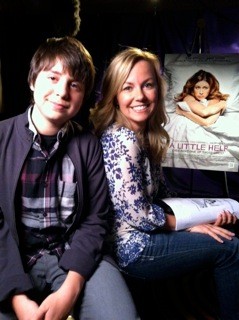 Last week, I had the opportunity to catch a press screening of 'A Little Help' before my press junket with the cast.  I was aware of this indie production because my friend and host reel editor, Joe Gressis, produced and edited the film.  I knew it was a project he had been working on for the last few years, so I jumped at the opportunity to cover the film for Starpulse.
'A Little Help' stars Jenna Fischer, Chris O'Donnell, Rob Benedict, and Daniel Yelsky and focuses in on life in a suburban New York community during the summer post-9/11.  The country is in upheaval, but so is Laura's (Jenna Fischer) life.  The film dives into her struggling relationships with her husband, her son, her extended family, and the consequences of her actions.  The story, written and directed by Michael J. Weithorn, is a roller coaster of emotions, but is always rooted in with humor, a nod to Weithorn's history as Executive Producer of 'The King of Queens'. 
Now, let me give you the inside scoop on press junkets.  They are very similar to speed dating because the actors are ensconced in a hotel suite or conference room with two chairs facing each other and a camera facing the actor.  Each reporter gets five minutes to ask the most pressing questions about the film hoping for the best sound bites possible.  The dreaded tap on your shoulder lets you know that you have one minute left and it is time to wrap things up.  The cameraman hands you your tape and you are on to the next room with another actor.  Daniel Yelsky, who plays Jenna Fischer's son, Dennis, in the film, insightfully said 'I've had to answer the same questions over and over today", just as I slid into to my seat to interview him.  Uh-oh, now I had to figure out the most original questions for a 14-year-old.  Kidding aside, Danny was a trooper and he even gave me a funny story to about my friend and film producer, Joe, during the post-production process.   Press junkets are not easy for reporters or for the actors, but they are huge part of the marketing and promotions arm of the movie studio. 
Enjoy my interviews with Daniel Yelsky, Michael J. Weithorn, and Rob Benedict and be sure to give me your feedback on the film.  'A Little Help' opens July 22nd. 
Rob Benedict Inverview: 
Daniel Yelsky Inverview:
Michael J Weithorn Inverview: