A Little Bit Comedy And A Little Bit Rock And Roll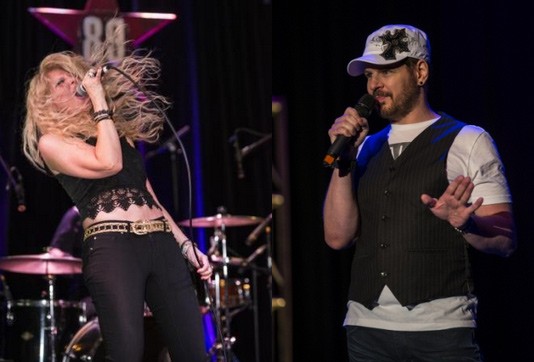 Starpulse.com's Jeza Belle sat down with rock songstress Amber Ferrari, voted one of Long Island's best singers, and New York City nightlife Glammy Award nominee; comedian Ike Avelli, whose friendship has led to collaborative partnerships in various productions. While together the duo dished on the correlation between comedy and song, the importance of giving back, and future plans.
Tell our readers what the two of you have been up to?
Amber- First, I'm currently working on a show called "Joplin's Pearl" that plays at the Patchogue Playhouse on Long Island, in which I spend the first half performing a number of cover songs from the various rock artists I respect, such as Led Zeppelin, Heart, Melissa Etheridge etc.  Then I literally become Janis Joplin for the second half of the show with lots of audience participation, and it's a blast!  On top of this, I'm working on my original music, like a new album, and I most recently opened for Taylor Dayne, which was awesome!
Ike-Alongside opening for Amber at "Joplin's Pearl", I'm bringing my current comedy show, "I've Slept My Way to the Top…Twice" to the Living Room at the Sherman Theater in Stroudsburg, Pennsylvania, which is the Poconos, after selling out twice in New York City. In addition, I'm writing a new campy Christmas show that will be debuting around the holidays.  
How did the two of you connect and begin performing together?
Ike-I was in a nightclub in Philadelphia and heard a singer performing. I ran over to find out who the singer was and we struck up a friendship. A few years later Amber came to see me perform and then asked me to open up for her, and I've been doing so for the last three years!
What ties together music and comedy, as it's a unique, but not completely unexpected, bond to have a comedian open for a singer?
Ike-It's great for each performance artist to be different because it makes the show more interesting. Also, on a personal note I do a lot of standup in small cabarets, but when I open for Amber we do much larger venues, which is such an adrenaline rush!
Amber-Plus, the comedy loosens the crowd up and gets them ready to have some fun! When Ike was first starting out he wanted to dip his toe in to the waters by producing a show and I suggested he come join me first. Now all these years later I get to perform in his shows from time to time and dress up like Neil Diamond! It's so nice to have a good friend where you help each other shoot for your dreams and are supportive along the way.
Who inspires each of you in your art forms?
Amber-I have so many! I was trained classically, so I love opera, but I'm a huge Judy Garland fan. Then there's Elvis for his stage shows; Tina Turner for her craziness on stage, just like Janis Joplin.  I'm also a big fan of Melissa Etheridge, as she's a huge vocalist that sings from her heart!
Ike-When I was 13, I saw Joan Rivers and was blown away and have been following her ever since! I also love Rodney Dangerfield and Tracey Ullman. Physical comedy is important to me because I don't want to just listen to someone speaking for an hour and a half, which is why I loved Whoopi Goldberg when she did all of her characters in the one-woman show back in the 80s, and Robin Williams, who of course very sadly just passed away. That's why I do variety in my shows, instead of just straight standup.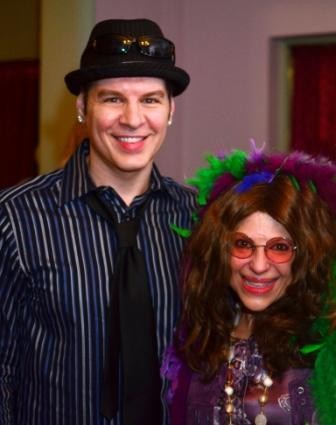 What do each of you to stay fresh in your work?
Ike-Aside from stalking Ricky Martin, who I'm completely obsessed with? Actually, I follow all of the entertainment columns, newspapers, and my mother who I talk to every day. But, for my act I do explore my sex life, which gives me about three seconds worth of material.
Amber-I'm always writing new songs. Currently I'm working on an acoustic album that will be released next year. I try to make sure each of my shows is different so I look to different artists and bring on different guests to keep it interesting. Right now I have Richie Cannata who is Billy Joel's original saxophone player. Plus I have Adam Tese, who has performed with Cyndi Lauper, Debbie Gibson, Taylor Dayne etc.
How important is it for artists to give back to the community?
Ike-It's so important, that's why I perform for the Imperial Court, a non-profit that works hard to raise money for various causes. 
Amber-Since I started getting paid to perform at 15 years old I've always given back in some form or another.  I've been working with Life Beat, which is the music industry's fight against AIDS, and Ike has joined me for the past three years in this.  It's a touching and heart-warming experience to be a part of and I do a holiday party for them yearly.  I also like to donate a portion of the proceeds from each of my shows to a charity that is near to my heart, such as Friends of Karen that helps families with children of life-threatening Illnesses and the Lions Club, which purchases seeing-eye dogs. 
Now it's time to dish with the drag queen:
Celebrity Crush?
Amber-Steven Tyler
What music are you currently listening to?
Ike-Jennifer Lopez
Amber- Zeppelin
Best vocalist, other than Streisand?
Ike-Amber Ferrari!
Big earrings or small diamond studs?
Amber-Big and gaudy!
Finally, what are your future plans?
Ike-More theater shows and I'm working on possibly having a monthly variety show in Manhattan that will highlight new talent.
Amber-I am hoping to take "Joplin's Pearl" on the road and to become an opening act on tour with a major performer.
For more information on Ike and Amber visit the Amber Ferrari Official Website, or the Ike Avelli Official Website.